Burial funerals and Covid lockdown
Traditional burial funerals can either happen with a church service first, or a service at the cemetery chapel subject to it being open. The pandemic has seen most cemetery chapels closed.  For a non-religious burial this means the service is graveside only.
The number allowed to attend is 30 people – we will advise.
We can use speakers at the graveside to play any chosen music.  We can also video the service for you to share with those who can't attend, to help them feel connected on the day.
We help to gently guide you as you work through your thoughts.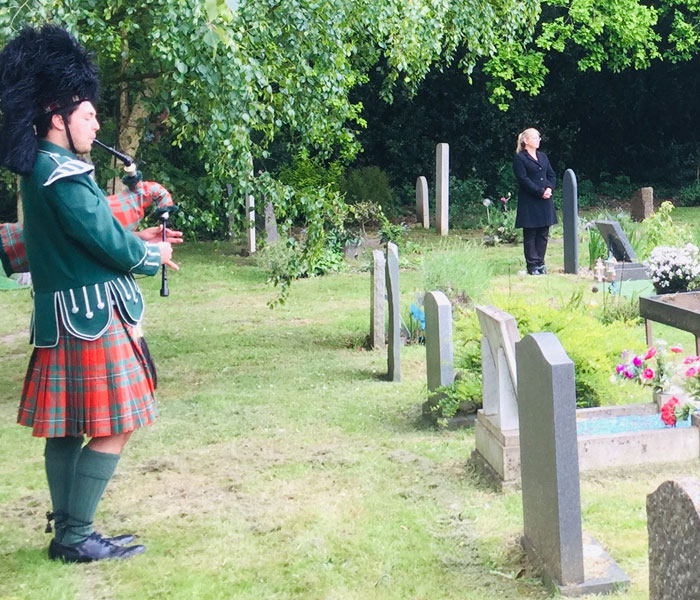 £1,950 graveside service only | £2,250 church or cemetery chapel before graveside + 3rd party costs & options
We serve families in West / SW London to NE Surrey
Family Led, Minister or Celebrant Led
If you wish for a faith led service we can organise a minister or priest, or you may already know who you wish to use.
Should you prefer a non-religious service, then we have a talented team of celebrants / humanists who can lead a service for you, whether  you want something light touch, or a full eulogy service.
Alternatively with it being just immediate family, some families are choosing to lead the service themselves. We can advise you on how to best do this.
How to personalise
The restrictions on funerals has seen the evolving of ideas on how to help family and friends feel connected when they cannot attend.
Hold a Ribbon – one family used a ribbon that they all held around the graveside – socially spaced – to feel connected with each other throughout the service
The Drive By – for some families, we have arranged a 'drive by' where family and friends can gather at certain points along the route to the cemetery, to pay their respects – all safely, socially distanced
Personal Voice Recordings played during the service
Some families have used FaceTime during the service to connect with relatives overseas
Video – if you wish, we can video the service, a private link will be sent to you after the service to share with family
A Memorial Online-Page – to help you inform relatives and friends, this is useful if you are planning a memorial later
Elegantly Designed Memory Booklets that you can send to family and friends – an online version is created too
A Bagpiper recently played at a burial service, it was most moving
If you have an idea, run it by us, we will see what can be allowed within the restrictions