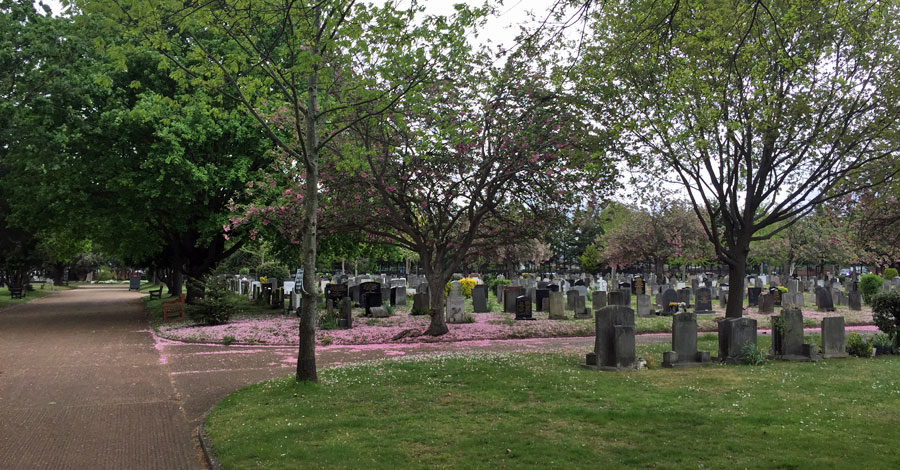 Here is a short guide to help you organise a funeral involving a burial in Richmond upon Thames. Although the majority of funerals in the UK involve a cremation, some families still opt to have a burial for religious, cultural or personal reasons.
You should be aware that burials can be significantly more expensive than cremations due to the cemetery fees – especially in London where space is at a premium. In some parts of London burials are no longer provided due to lack of space. In Richmond upon Thames, you have a choice of cemeteries and a natural burial ground (see below).
The process of organising a burial
Once you have registered the death (at a register office in the same district where the person died) you will obtain a green form called the Certificate for Burial or Cremation. You will need to submit this, along with a completed Notice of Interment form to confirm your booking.
The cemetery will also need to know the size of the coffin in advance. You may also need to show proof of residency to be eligible for the preferential rate for residents.
There is a choice of cemeteries in Richmond upon Thames (see below), however as is common in London, grave space is limited and in some cases no longer available for new graves, so you will need to check with the relevant cemetery.
What costs are involved for a burial?
There are two main costs for a burial in a cemetery – the purchase fee which is for the burial plot itself and the burial fee which covers the costs of reopening an existing grave or digging a new grave and support from the cemetery team. For new graves you will need to pay a purchase fee, however if you already have an existing family grave this fee can be avoided.
There are two other key considerations that have a significant impact on the final cost you will be faced with.
Firstly, if the cemetery is managed by the same borough in which the person who died resided, there is a preferential 'residents' rate. The fees for non-residents are significantly higher.
The second consideration is the type of grave you would like. You have a choice of three different types of graves:
Traditional grave: allows for a much more substantial type of memorial on a concrete landing that covers the area of the grave, along with a kerb set. A grave in a traditional section can be prepared to allow up to two full burials (some allow up to four full burials).
Lawn graves: level with the ground, with no curbs and a headstone of a limited size.
Natural burial: no memorial or planting.
Of these, the traditional grave is the most expensive and a natural burial is the least expensive. The type of grave you choose will also determine in which section of the cemetery the grave will be located.
The Deed of Exclusive Right of Burial
You should be aware that you are purchasing the Exclusive Right of Burial which is issued for 50 years. The owner of the grave can apply to the Cemeteries Office to extend the Deed for up to 100 years for an additional fee.
The registered grave owner is the person named on the Deed, or registered with the Cemeteries Office as Owner following a transfer.
When an application is made for a burial in the grave but the Registered Owner is already dead, a transfer of the Ownership of the Exclusive Right of Burial will be required.
How much does a burial funeral cost?
The purchase fees for residents are typically in the region of £1,500 to £3,000 depending on which section of the cemetery you have opted for. For non-residents these fees can range from around £4,500 to £5,500.
The burial fees for a resident are around £1,500 and for a non-resident around £3,000.
So the total cemetery costs can range from £3,000 to £6,000 for residents of Richmond upon Thames and £7,500 to as much as £11,500 for non-residents.
In addition to the plot purchase and burial fees, you may wish to make use of the chapel at the cemetery for a service, in which case there would typically be a fee payable of around £140 (if not, it's termed a direct to grave burial – this is typically where the service is held in a church). You can choose to pay extra to have a grave with a deeper depth which allows for more than the standard two interments. There are additional fees for funerals at weekends.
You should also budget for a memorial, however you will need to wait up to a year after a burial before erecting a memorial to allow time for the grave to settle into the ground naturally and ensure that the memorial will be stable and secure. In the meantime you may opt to have a grave marker and / or a temporary grave surround whilst waiting for the memorial.
Most people will also use a funeral director to undertake the funeral, so you will also need to budget for:
Funeral director's fees, which may or may not include:

Coffin
Hearse transport
Pallbearers
Viewing
Dressing

Order of Service booklets
Clergy or Celebrant fee
Flowers
Limousines
Other venue costs (church fee, funeral reception)
Taking all of this into account, it's easy to see why the total cost of a burial funeral in London is around £7,500 on average (SunLife Cost of Dying Report 2018).
Useful links:
Local Natural Burial Grounds

There is a Natural Burial Area in the Twickenham Cemetery at Hospital Bridge Road. Some of the other cemeteries in the borough do have natural burial areas, but may be full.
You should always check with the natural burial ground that they allow burials of coffins, rather than just ashes.
White Rose Modern Funerals can organise a cost-effective burial funeral – including natural burial funerals – in W / SW London, Middlesex and Surrey. As a husband and wife team of independent funeral directors, you will receive a highly personal level of service. Please call us on 020 3281 1045 for more information.