Our personalised approach to a cremation funeral ceremony, helps you to work out the most fitting way to say farewell.
You may already have ideas, or may not know where to start.
We listen, and ask the questions to help you think things through. You may wish to keep things simple and low key, or create a bespoke ceremony to reflect the character and style of a life lived.
We look after all aspects of the funeral, helping to add the personal touches and can be as light touch or as involved as you need us to be. We advise on how to manage costs.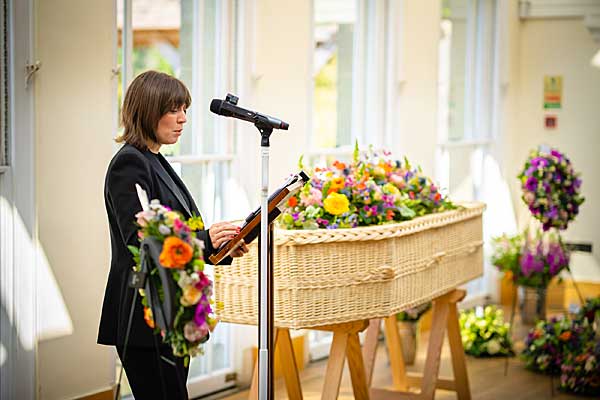 Does this answer your needs? If not, see
Where the service will be held
A cremation funeral can be held at the crematorium chapel, a church followed by the crematorium, or if you would prefer a less funereal setting, see our alternative cremation venue option.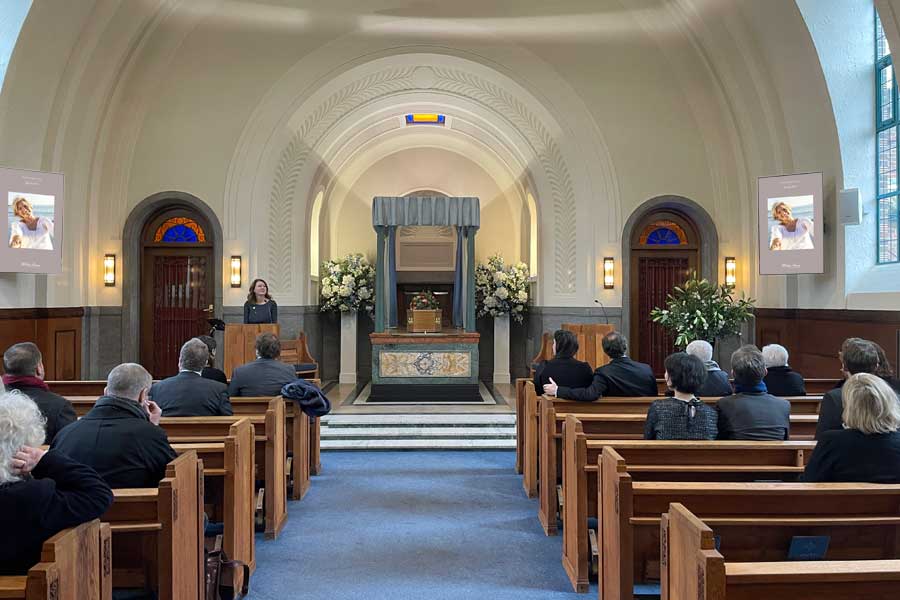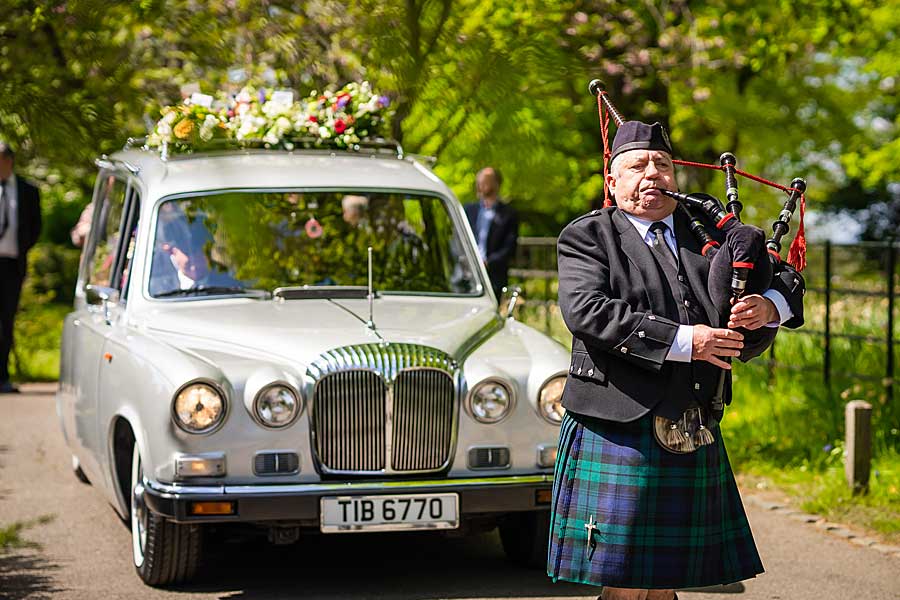 Informal / low key or a sense of ceremony and tradition
When planning a cremation funeral ceremony, we advise to first think about the 'feel' of the funeral.
Would you like to keep things more low key, with the focus just being on the ceremony? Or, would you like a sense of occasion and arrival?
There is no right or wrong way – it is what works for you, we adapt to what is needed.
Informal / low key
We use our Galaxy hearsette (coffin is not visible from the outside) and we pre-place the coffin into the chapel before family are invited to enter.
This means the focus is on the service time only, a simple style that helps to minimise costs.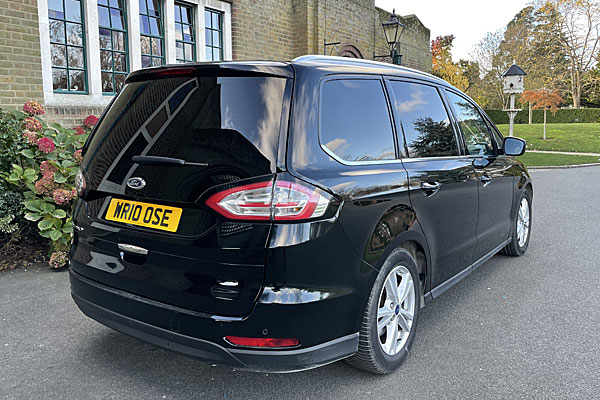 Sense of ceremony or tradition
We use either a traditional hearse or alternative style of hearse for transporting the coffin (view hearse options) to add a sense of arrival and occasion.
A procession can begin at the family home or everyone can gather at the crematorium. The coffin may be carried in by pallbearers – either family / friends or we can organise pallbearers.
We're here to help you – call 020 3281 1045
Who will Officiate the service?
A cremation funeral service can be officiated by a faith minister, celebrant or the family.
Minister / religious – for a faith led service you may already have a minister you know to lead the service, or we can organise a minister for you. We work across all faiths.
Celebrant / humanist – for a non-religious service we work with a talented team of celebrants / humanists. Typically when we meet with a family and talk things through, we get a feeling for who we would recommend.
Family-led – or would you like to lead the service yourselves? This can work well if the family dynamics are such that you can work together and organise within a timeframe. We can advise.
Personalising a funeral
As we chat with you we can explore ways to personalise the funeral ceremony. As a measure we always say, imagine what would make your loved one smile.
For example, a gentleman who had died who loved to grow tomatoes and to be in his greenhouse with a mug of coffee and jammy dodger biscuits – instead of flowers, the family covered his wicker coffin with vines of tomatoes and jammy dodgers! They all then stood around his coffin as each family member shared a memory. Despite the sadness, the room was full of laughter.
Practical and creative ways we can help:
Video slideshow of up to 30 photos – a visual way to quietly reflect during a service, we create this as a video file set to a chosen track of music
Order of Service – we design and print elegant Orders of Service
Flowers – our recommended florist creates beautiful, environmentally aware arrangements from simple hand-tied to stunning sprays (view examples)
How else we can help you
Planning a funeral may feel overwhelming. How we communicate with you, and help you to communicate the funeral details to family and friends, helps to make a difficult time a little easier.
Informing family and friends – we create an online tribute page that has all the relevant information for the funeral and Wake. Includes directions, google maps, live webcast details plus any charity donation details. There are also options to add an RSVP or leave a tribute.
Easy access to us any time– you will always know who you are talking to and have easy access to us should you need to chat outside of office time. We hand-hold you throughout and are there to support you on the day of the funeral – this gives you continuity and reassurance.
Here to listen and help – meetings can take place at our relaxing meeting room in Teddington / Twickenham, we also work with many families remotely by Zoom, WhatsApp or phone.
Alternative venue – GreenAcres Chiltern and Clandon Wood, a different funeral experience
A crematorium funeral does not have to take place at a crematorium. The Woodland Hall at GreenAcres Chiltern and The Belvedere, Pembroke Lodge are also available to hire for a cremation service. The actual cremation happens separately after the service, family do not follow there.
Linden House (Hammersmith) and Le Gothique (Wandsworth Common) are other alternative venues. The funeral reception is typically held at these venues too.
Essential funeral fees are a coffin, transport and venue, whilst other costs are optional. The fee summary we send will show an itemized breakdown of costs in accordance with what you choose.
The Essentials
These items are typically required for every funeral
---
White Rose Modern Funerals fee*: £1,950
Crematorium Fees (for single service): Typically £585 – £725
Doctor's certificate for cremation: £82
Transporting the coffin (there is no charge if using our Galaxy hearsette): Traditional hearse £350 / Alternative hearse from £450
Coffin: London oak veneer £370 / Simple Willow £595 / alternative choice of natural, solid wood, cardboard £300 – £850
Options
These items depend on the choices you make
---
Minister or Celebrant (or the service can be family led, we can advise): £250 – £350
Family transport (limousine carries 6 people and will wait to end of service to either go on to the wake venue or return to the family home): Limousines from £350 / Executive hire car POA (locally from £50)
Hearse procession to leave from family home: £100
Order of Service design and print (priced per copy, minimum 20 copies): from £60
Video slideshow of photos (approx 30 photos set to chosen music track to be used as a reflection piece): £95
Live webcast of the service: £60
Pallbearers (if coffin not being pre-placed): £50 each, minimum 4 needed (£100 each if a church service before crematorium)
Flowers – we recommend Leonoor, Rose & Mary (you order through and pay her direct): Hand tied bouquets from £85, sprays £135 – £295
Additional Fees
These are additional fees that may be incurred
---
Additional fee if service is to be held in a church before the crematorium: £300
Dressing your family member in chosen outfit (dressing is a personal choice and not obligatory – a dignified soft coffin sheet is also used): £75
Private family time in Chapel of Rest (covers private church hire for an hour and transporting the coffin): £250
Pacemaker removal (if required): £95
Embalming (if required): £175
Out of hours collection for homes and care homes (3pm – 9am, weekends and bank holidays): £250
Out of area collection (typically hospital outside of London, elsewhere in UK): £2 per mile round trip from TW8
Typical ballpark cost of a Personalised Cremation funeral
Low Key Option: based on single service at Mortlake Crematorium led by a celebrant, with a London Oak veneer coffin, coffin pre-placed, informal hearsette transport, 30 copies of 4 page Order of Service – £3,552
With Ceremonial Touches: based on a double service at Mortlake Crematorium led by a celebrant, with Simple Willow coffin, 4 pallbearers, traditional hearse transport, 40 copies of 8 page Order of Service, video slideshow of photos – £4,872
* Our fee includes: Arranging the funeral, processes and legal forms, collection and looking after your relative at our private facilities, online funeral notice page to help inform family and friends of the funeral details, hand-holding you through the process, taking care of all the details, personal access to our team outside of office hours, our attendance on the day and use of our informal Galaxy hearsette vehicle as required.
Payment terms: we appreciate how much you have to sort at this time, our terms are within 21 days of the funeral date, with payment by bank transfer.