With a cremation funeral, the body of the person who has died is cremated at a crematorium. You can choose what you would like to happen with their ashes.
The funeral service can be held at a traditional crematorium or at an alternative less funereal venue. By contrast, a direct cremation is unattended.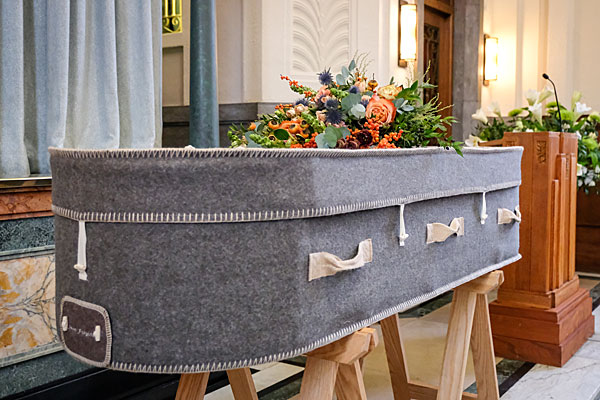 How does a cremation funeral work?
About cremation funerals
Cremation funerals are more common than burials in the UK. You can choose any crematorium, you do not have to use your most local crematorium.
Every crematorium incorporates a funeral service venue, typically called a chapel – however both religious and non-religious services can be held there.
There will typically be a raised platform where the coffin will be placed (called a catafalque). Seats are arranged in rows and there is a lectern at the front for the speaker or officiant.
The length of the service is determined by the individual crematorium, some allocate just 20 minutes for a standard service, others allow 30 – 40 minutes. It is possible to extend this time by booking a double service for an additional fee.
After the service, everyone can congregate outside on the flower terrace where any floral tributes will be displayed. You may wish to gather here for around 10 – 15 minutes before departing for the funeral reception.
How to arrange a cremation funeral
At White Rose Modern Funerals, we help families through the process of arranging a cremation funeral.
The first step is to explore which crematorium will be the most suitable one to use, based on its location, feel and the facilities provided. There are also non-funereal alternative venues for cremation funerals, where the service can be held and the coffin taken to the crematorium afterwards.
Once the crematorium booking has been made, we will help with completion of all of the official forms that need to be submitted to the crematorium prior to the funeral.
We then look after your family member until the day of the funeral. At White Rose Modern Funerals, you will always have the reassurance that who you initially meet with will also be there on the day.
Types of Cremation Funeral
Personalised Cremation Funeral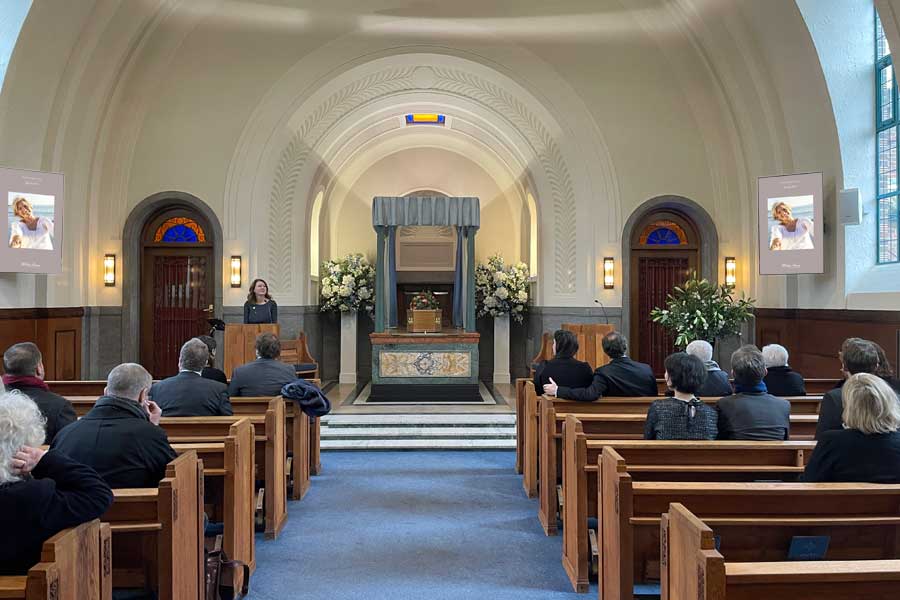 From a low key and informal approach, or a sense of ceremony, tradition and personal style. We help you to make informed choices when planning a funeral, advising on how to manage costs and create a meaningful farewell.
Price: from £1,950 + 3rd party costs & choices
Alternative Venue Funeral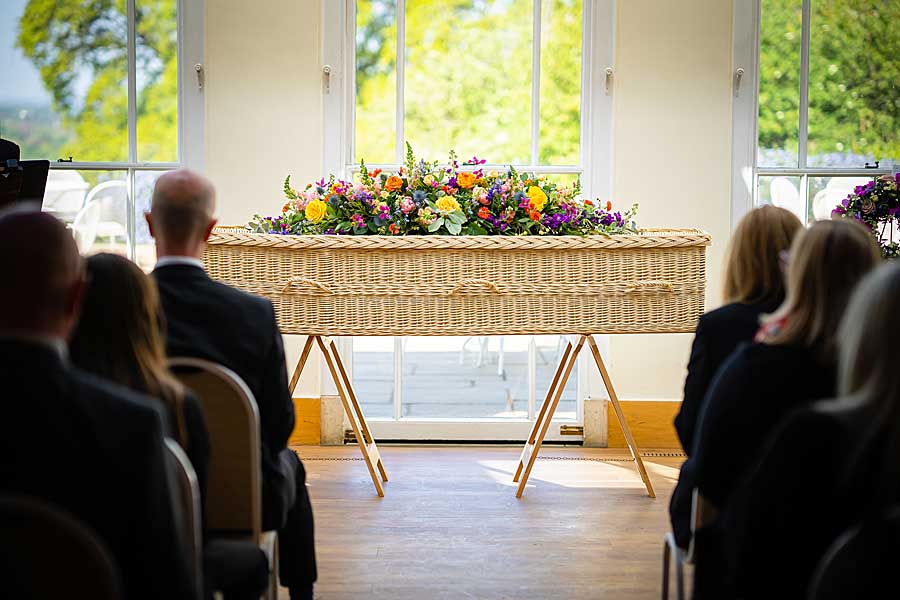 A cremation service does not have to held at a crematorium. There are peaceful, beautiful venues surrounded by nature where a service can be held with the coffin present. The unhurried time and sense of privacy helps families to create a personal farewell. It is also possible to hold the Wake at these venues.
Price: from £2,250 + 3rd party costs & choices
No Fuss Pre-10am Cremation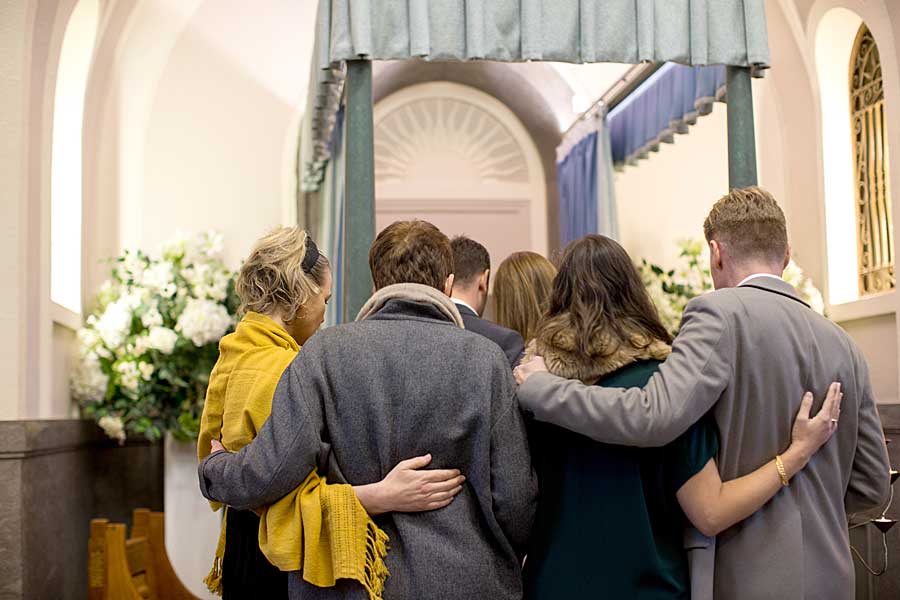 A no-fuss, low cost funeral for when you wish to be at the chapel to say farewell in your own private way. We take advantage of the discounted crematorium rates for a pre 10am service. Typically attended by 1 – 15 people, this simple cremation funeral is ideal for families where Direct Cremation feels too remote.
Price: £2,362 all inclusive
Direct Cremation
Direct cremation – also advertised as pure cremation – is an unattended funeral. As a local, independent funeral director you can take comfort in knowing who we are, where your relative will be cared for and the local crematorium we use. You will know the date and time of the cremation (not all direct cremation providers offer this).
Price: £1,495 all inclusive
We're here to help you – call 020 3281 1045
Why choose a cremation funeral?
There are many reasons why someone might choose cremation for their funeral. Some people choose cremation because it is often more affordable than a traditional burial, as the cost of a burial plot can run into several thousand pounds.
Cremation allows you to take your time in deciding what you would like to do with the ashes. For example, the ashes can be kept in an urn, interred at a cemetery or natural burial ground, or scattered in a place that was meaningful to your family member.
Additionally, cremation can be a more environmentally friendly option than a traditional burial because it reduces the need for land to be used for burial funerals, however natural burials offer the most ecological option as the body is returned to nature over time.
Relevant blog articles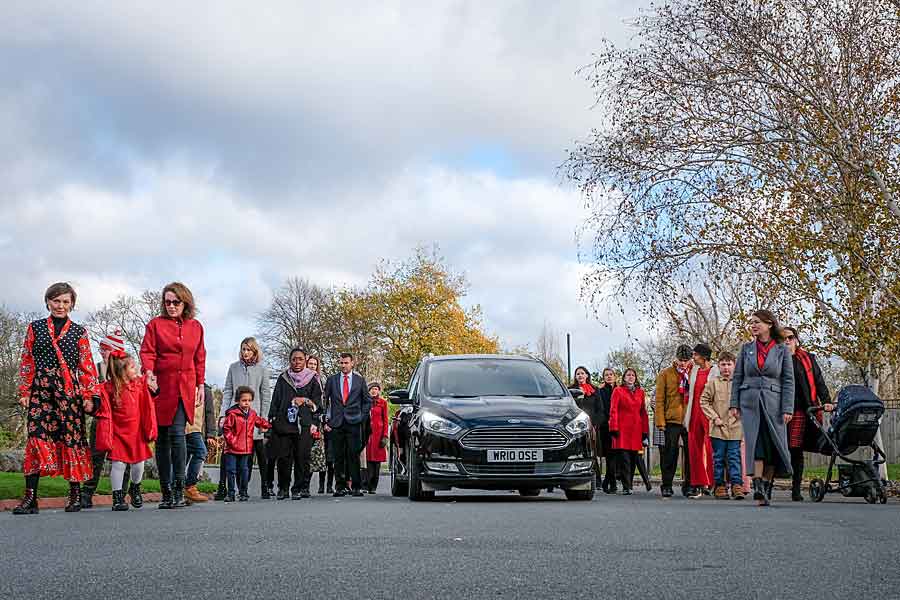 A modern funeral is about choice.  A funeral can be a private, quiet farewell, a sense of ceremony and occasion, or even unattended. Currently, influential TV and media advertising is …
Read more
Independent funeral director helping families across London & Surrey
You can speak to us anytime on 020 3281 1045 – we're open 24/7