White Rose Modern Funerals can arrange burials at any cemetery across SE England. However as we are based in Richmond upon Thames, on this page you will find details of our most local cemeteries.
Please do contact us if you need help with arranging a burial funeral at any cemetery. We also arrange natural burials at natural burial grounds.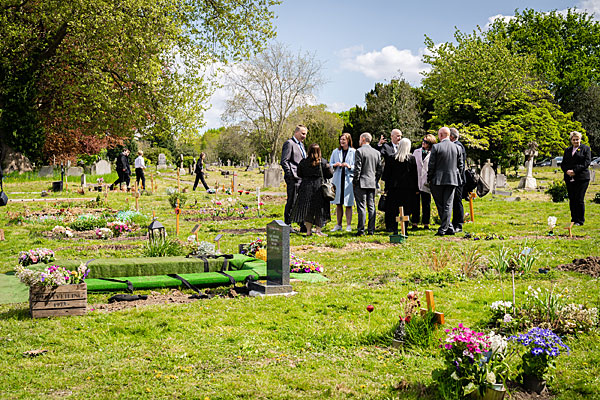 We're here to help you – call 020 3281 1045
Cemeteries in Richmond upon Thames
There are six cemeteries for burial funerals and ashes interments (cremated remains) located in Richmond upon Thames that are managed by the London Borough of Richmond upon Thames:
Richmond Cemetery (joined with East Sheen Cemetery): Lower Grove Road, Richmond TW10 6HP
East Sheen Cemetery: Sheen Road, Richmond TW10 5BJ
Hampton Cemetery: Hollybush Lane, Hampton TW12 2QS
Old Mortlake Burial Ground: Avenue Gardens, London SW14 8BP
Teddington Cemetery: Shacklegate Lane, Teddington TW11 8SF
Twickenham Cemetery: Hospital Bridge Road, Whitton, Middlesex TW2 6LD
Some cemeteries may be closed for new burials and some may not provide the facility for ashes interments. You should check with the central Cemetery Office which is located at East Sheen Cemetery. Contact the Cemeteries Team on 020 8876 4511 or email cemeteries@richmond.gov.uk
There are two other cemeteries located within the Borough of Richmond that are managed by Hammersmith and Fulham Cemeteries Department. These are:
North Sheen Cemetery (also known as Fulham New Cemetery, located just across the road from Mortlake Cemetery): Lower Richmond Road, Richmond, TW9 4LL
Mortlake Cemetery (also known as Hammersmith New Cemetery, the main gates are on the Clifford Avenue A316 to the west of Chiswick Bridge): Clifford Avenue/Mortlake Road, London SW14 7BU
Residents of Richmond upon Thames should be aware that for these two cemeteries, you will not be able to obtain the residents' preferential rate. The telephone number for those is 020 8878 1934 or visit the Hammersmith and Fulham Cemeteries website.
Independent funeral director
helping families across London & Surrey
You can speak to us anytime on 020 3281 1045 – we're open 24/7