A cremation funeral does not have to take place at a crematorium. There are a few venues that can accommodate a funeral service to include the coffin, where you have more privacy and beautiful surroundings.
What these beautiful locations offer is a sense of privacy, peace and space – there is no conveyor belt. This gives families so much comfort. Surrounded by nature, the ambiance is non-funereal which also makes these locations ideal for children.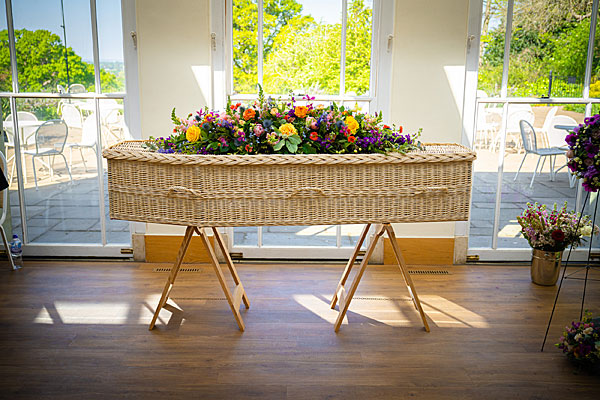 GreenAcres Chiltern, Beaconsfield
Although a natural burial ground, GreenAcres allow their woodland hall to be used for cremation services. There's also the option of using the separate Gathering Hall as a wake venue. The service is held at the venue, the actual cremation then takes place afterwards at a local crematorium and is unattended.
Just a 30 – 40 minute drive (~23 miles) from SW London, will transport you to a most peaceful setting surrounded by nature. As you arrive, you drive along a woodland road before turning into the forest. It's an entirely different atmosphere – less funereal.
Pembroke Lodge, Richmond Park
Pembroke Lodge is a beautiful listed Georgian Mansion with bright, spacious rooms and fabulous views in Richmond Park. The Belvedere is on the ground level with a terrace outside.
Please note this venue is only suitable for attendances of 30-40 and above. Availability for funeral services may be slightly limited during the wedding season May to September.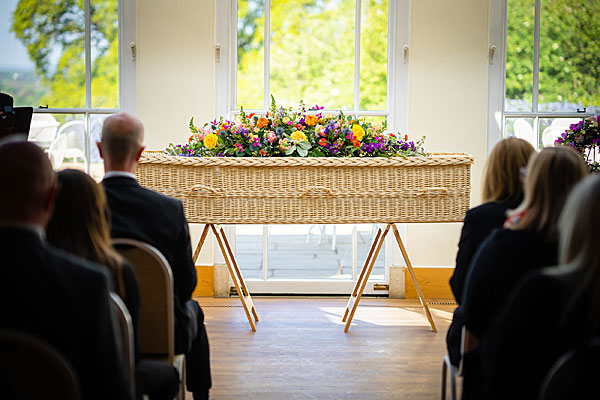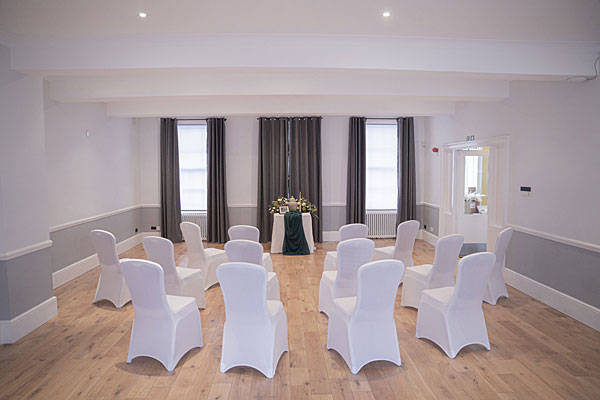 Linden House, Hammersmith
Linden House is a private members club that is available for funeral services with a coffin present. Set by the River Thames, it is a secluded and elegant setting for a private service.
There is a selection of versatile rooms that are bright and airy, with a calm interior. From the front terrace there are views overlooking the river.
Le Gothique, Wandsworth Common
Le Gothique is a restaurant, bar and gardens located within the historic Royal Victoria Patriotic Building. There is free off-street parking and on site catering.
Funeral services can be held both in the garden and internally. There are three spaces to choose from; The Garden, The Restaurant and the Great Hall.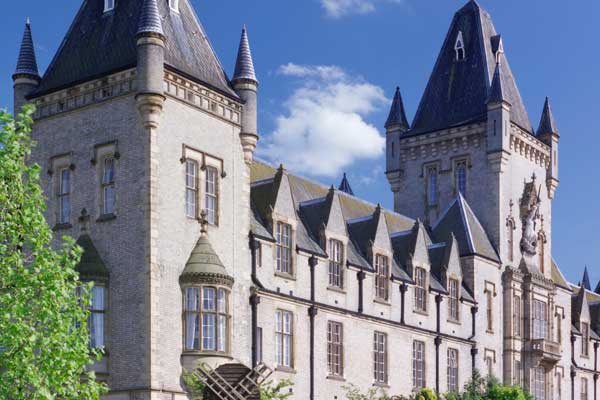 We're here to help you – call 020 3281 1045
Who will Officiate the service?
A cremation funeral service can be officiated by a faith minister, celebrant or the family.
Minister / religious – for a faith led service you may already have a minister you know to lead the service, or we can organise a minister for you. We work across all faiths.
Celebrant / humanist – for a non-religious service we work with a talented team of celebrants / humanists. Typically when we meet with a family and talk things through, we get a feeling for who we would recommend.
Family-led – or would you like to lead the service yourselves? This can work well if the family dynamics are such that you can work together and organise within a timeframe. We can advise.
Personalising a funeral
As we chat with you we can explore ways to personalise the funeral ceremony. As a measure we always say, imagine what would make your loved one smile.
Practical and creative ways we can help
Video slideshow of up to 30 photos – a visual way to quietly reflect during a service, we create this as a video file set to a chosen track of music
Order of Service – we design and print elegant Orders of Service
Flowers – our recommended florist creates beautiful, environmentally aware arrangements from simple hand-tied to stunning sprays (view examples)
Our pricing for funerals is fully transparent and flexible – you only pay for those elements that you require. Some fees are essential, others are optional, so the total cost will depend on the choices you make. When we have chatted through with you what you would like, we send a personalised Fee Summary showing the breakdown of costs in accordance with what you choose.
Ballpark figures
Keep it simple: The simplest transport and wicker coffin, family-led no other ceremonial touches
Ballpark £3,500 (GreenAcres) or £3,900 (Pembroke Lodge)
With elegant finishing touches: If you wished to have a minister or celebrant-led service, with additional elegantly designed finishing touches such as order of service, video slideshow of photos, reception venue
Ballpark from £4,700 (GreenAcres) or £3,400 (Pembroke Lodge)
The Essentials
These items are typically required for every funeral
---
White Rose Modern Funerals fee*: £2,250
Use of ceremonial hall for service, followed by unattended cremation at the local crematorium: Typically £675 – £1,000 – examples below:
GreenAcres Chiltern is £750 including the Direct Cremation fee. Service times are either 11am, 1pm or 3pm. Their Gathering Hall can also be hired for a wake at £445 per hour. If following 11am or 1pm service, 2 hours hire required. If following 3pm service, only 1 hour hire is available.
Pembroke Lodge is £500 for the hall hire and the Direct Cremation cost is £305. The reception is also held at Pembroke Lodge, various catering options are provided.
Doctor's certificate for cremation: £82
Transporting the coffin (there is no charge if using our Galaxy hearsette): No charge / Alternative hearse from £450
Coffin: London oak veneer £345 / Simple Willow £595/ alternative choice of natural, solid wood, cardboard £300 – £850
Options
These items depend on the choices you make
---
Minister or Celebrant (or the service can be family led, we can advise): £250 (Minister) | £350 (Celebrant)
Order of Service design and print (priced per copy, minimum 20 copies): from £60
Video slideshow of photos (approx 30 photos set to chosen music track to be used as a reflection piece): £95
Pallbearers (not needed if coffin being pre-placed): £50 each, minimum 4 needed
Flowers – we recommend Leonoor, Rose & Mary (you order through and pay her direct): Hand tied bouquets from £85, sprays £135 – £295
Additional Fees
These are additional fees that may be incurred
---
Dressing your family member in chosen outfit (dressing is a personal choice and not obligatory – a dignified soft coffin sheet is also used): £75
Private family time in Chapel of Rest (covers private church hire for an hour and transporting the coffin): £250
Pacemaker removal (if required): £95
Embalming (if required): £175
Out of hours collection for homes and care homes (4pm – 8am, weekends and bank holidays): £250
Out of area collection (typically hospital outside of London, elsewhere in UK): £2 per mile
* Our fee includes: Arranging the funeral and legal forms, collection and looking after your relative at our private facilities, online tribute page to help inform family and friends of the funeral details, hand-holding you through the process taking care of all the details, personal access to a team member including outside of office hours, our attendance on the day.
Payment terms: we appreciate how much you have to sort at this time, our terms are within 21 days of the funeral date, with payment by bank transfer.
Does this answer your needs? If not, see
Independent funeral director
helping families across London & Surrey
You can speak to us anytime on 020 3281 1045 – we're open 24/7