Traditional burial funerals can either happen with a church service first, or a service held direct at the graveside. Some cemeteries do have their own chapel, but many have closed indefinitely since the pandemic.
Burial services can be led by either a Minister, Celebrant or can be family led – we can help advise.
At the graveside we can use speakers to play any chosen music. We can also video the service for you if needed.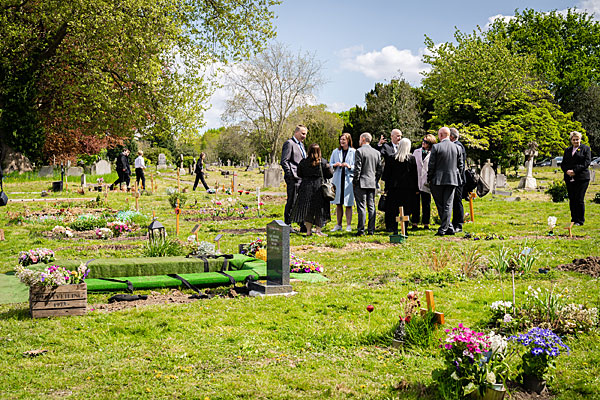 Does this answer your needs? If not, see
Family Led, Minister or Celebrant Led
If you wish for a faith led service we can organise a minister or priest, or you may already know who you wish to use.
Should you prefer a non-religious service, then we have a talented team of celebrants / humanists who can help to write and lead a service for you.
Alternatively, some families prefer to lead the service themselves. We can advise you on how to best do this.
How to personalise a service
Personal Voice Recordings can be played during the service
We can play any music through a bluetooth speaker
Musicians, singers can play/sing at the graveside
Order of Service – we elegantly design and print
Video – we can video the service, a private link will be sent to you after the service to share with family
If you have an idea, run it by us, we will see how it can be implemented
Informing family and friends
We create an Online Tribute page (view example) to help you inform relatives and friends of the funeral details. This includes directions, Google Maps, any donations information. Tributes and if required an RSVP can also be added
Our pricing for funerals is fully transparent and flexible – you only pay for those elements that you require. Some fees are essential, others are optional, so the total cost will depend on the choices you make. When we have chatted through with you what you would like, we send a personalised Fee Summary showing the breakdown of costs in accordance with what you choose.
The Essentials
These items are typically required for every funeral
---
White Rose Modern Funerals fee:*
Simple graveside service only: from £1,950
Ceremony plus graveside burial: from £2,250
Transporting the coffin (there is no charge if using our Galaxy hearsette): Traditional hearse £350 / Alternative hearse from £450
Coffin: London oak veneer £370 / Simple Willow £595 / alternative choice of natural, solid wood, cardboard £250 – £950
4 pallbearers @ £100 each for church and cemetery (not needed if family pallbearers): £400
Temporary wooden gravemarker with name place: £95
Church fee for service and graveside burial: £228
Options
These items depend on the choices you make
---
Minister or Celebrant if not being held in a church (or the service can be family led, we can advise): £200 – £275
Family transport (limousine carries 6 people and will wait to end of service to either go on to the wake venue or return to the family home): Limousines from £300 / Executive hire car POA (locally from £50)
Hearse procession to leave from family home: £100
Order of Service design and print (priced per copy, minimum 20 copies): from £60
Video slideshow of photos (approx 30 photos set to chosen music track to be used as a reflection piece if church has facilities to show): £95
Live webcast of the service (dependent upon church and what facilities or Wi-Fi they have available): £60
Flowers – we recommend Leonoor, Rose & Mary (you order through and pay her direct): Hand tied bouquets from £85, sprays £135 – £295
Additional Fees
These are additional fees that may be incurred
---
Dressing your family member in chosen outfit (dressing is a personal choice and not obligatory – a dignified soft coffin sheet is also used): £75
Private family time in Chapel of Rest (covers private church hire for an hour and transporting the coffin): £250
Embalming (if required): £175
Out of hours collection for homes and care homes (3pm – 9am, weekends and bank holidays): £250
Out of area collection (typically hospital outside of London, elsewhere in UK): £2 per mile round trip from TW8
Typical ballpark cost of a Cemetery Burial
Graveside Service only – low key option: based on minister-led graveside service, with London oak veneer coffin, 4 pallbearers, informal hearsette transport, temporary gravemarker – £2,655 + grave & cemetery fees (see below)
Cemetery Chapel – with Graveside Committal: based on service at the cemetery chapel led by a minister, with London Oak veneer coffin, 4 pallbearers, hearse transport, 40 copies of 8 page Order of Service, temporary gravemarker – £3,898 + grave & cemetery fees (see below)
Church Service – with attended cemetery burial: based on a Church Service, followed by graveside committal, with Thames oak veneer coffin, 4 pallbearers, hearse transport, one limousine, 40 copies of an 8 page Order of Service, temporary gravemarker – £4,450 + grave & cemetery fees (see below)
Cemetery Fees
Cemetery fees are subjective to each borough, but are usually classed as Resident or Non-Resident. The resident fees are cheaper (up to 50%) and are usually based on the residency of the person who has died. Proof of residency is required by the cemetery. We can advise once we know all the details.
Important: When purchasing a burial plot at a traditional cemetery, the council will charge both grave purchase and interment fees. If you are opening an existing grave you have already purchased, just the interment fee applies. We can advise.
Purchase Fees (sometimes called Plot Fee – based on cemeteries local to TW/KT postcodes at resident's rate – these fees are payable directly to the cemetery): From £2,528
Burial Fees (sometimes called Interment Fee – based on cemeteries local to TW/KT postcodes at resident's rate – these fees are payable directly to the cemetery): Typically £1,675 – £2,308
* Our fee includes: Arranging the funeral and legal forms, collection and looking after your relative at our private facilities, online tribute page to help inform family and friends of the funeral details, hand-holding you through the process taking care of all the details, personal access to a team member including outside of office hours, our attendance on the day.
Payment terms: we appreciate how much you have to sort at this time, our terms are within 21 days of the funeral date, with payment by bank transfer.
We're here to help you – call 020 3281 1045
Does this answer your needs? If not, see
Independent funeral director
helping families across London & Surrey
You can speak to us anytime on 020 3281 1045 – we're open 24/7