We often get asked for recommendations for venues to host a funeral reception, wake or celebration of life in Richmond, Kingston and surrounding areas.
There are many venues, from hotels, restaurants and pubs to local clubs, theatres and community venues that cater for intimate family gatherings through to larger groups. Here is a list to help you find one.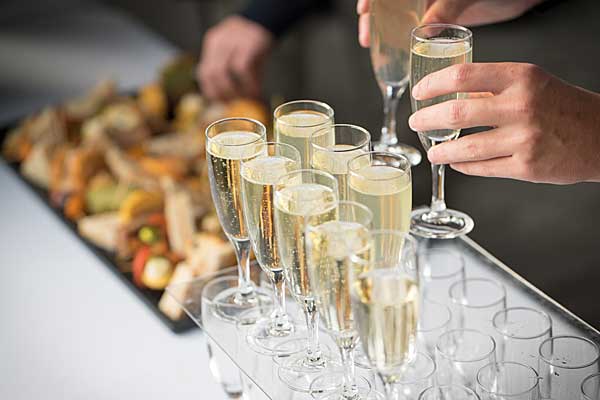 Select preferred venue location using buttons below – or scroll down page to view all venues:
Funeral reception venues in Richmond upon Thames
VENUES NEAR MORTLAKE CREMATORIUM
The Original Maids of Honour
A bakery and tea room steeped in history, serving cakes, pastries, meat pies, cream teas and traditional English Luncheons. Close to Mortlake Crematorium.
288 Kew Road, Richmond TW9 3DU
020 8940 2752
Bulls Head
Private rooms available, high-ceilinged spaces with old-world charm and a casual elegance overlooking the River Thames. Parking can be a little tricky, but the ambience is perfect for a wake or funeral reception.
373 Lonsdale Road, Barnes SW13 9PY
020 8876 5241
Coach & Horses Hotel
Young's Real Ale pub, restaurant and boutique hotel with two spaces for hire for funeral receptions and celebrations of life. Located directly opposite the Elizabeth Gate at Kew Gardens.
8 Kew Green, Kew, Surrey, TW9 3BH
020 8940 1208
Putney Town Rowing Club
A 5 minute walk from Mortlake Crematorium, providing a bar and balcony with beautiful views of the River Thames
Mortlake Rowing Club, Kew Meadow Path, Richmond TW9 4EN
07879 694 967
The Tapestry
Gastro-pub in Mortlake, lovely food with a private garden with Tapas Bar and Restaurant. Close to Mortlake Crematorium.
1 Lower Richmond Road, London, SW14 7EZ
020 8878 7177
The Ship
Family-friendly waterside pub within walking distance of Mortlake Crematorium, suitable for an informal wake.
10 Thames Bank, Mortlake SW14 7QR
020 8876 1439
VENUES IN RICHMOND TOWN CENTRE
Pembroke Lodge
A beautiful Georgian mansion in the heart of Richmond Park. Belvedere and Russell Suite are available to hire for funeral receptions.
Richmond Park, Richmond, Surrey, TW10 5HX
020 8940 8207
Bingham Riverhouse
Stylish hotel restaurant and outdoor area set in a smart Victorian townhouse overlooking the Thames near Richmond Bridge – a chic venue for a funeral reception.
61-63 Petersham Rd, Richmond TW10 6UT
020 8940 0902
The Harbour Hotel
Located at the top of Richmond Hill, close to the gates of Richmond Park. No private dining room, but groups may be hosted on a large table in the restaurant itself, or in the privacy of the Library.
Richmond Hill, Richmond TW10 6RP
020 8940 0061
Lass O' Richmond Hill
Traditional English pub near Richmond Park – perfect for an informal post-funeral drinks reception with an optional buffet.
8 Queens Road, Richmond, Surrey, TW10 6JJ
020 8940 1306
Petersham Hotel
With stunning views of the River Thames, The Petersham offers a peaceful and tranquil setting for small intimate gatherings, memorials and larger funeral receptions. Rooms available are NIGHTINGALES (up to 120 guests) or RIVER ROOM & VERANDA and THE TERRACE & ROSE (both up to 70 guests).
Nightingale Lane, Richmond, Surrey, TW10 6UZ
020 8939 1066
Richmond Hill Hotel
Elegant Georgian spaces at this hotel at the top of Richmond Hill, with private dining rooms and a large function suite suited to a large funeral reception.
144-150 Richmond Hill, Richmond TW10 6RW
020 8940 2247
The Dysart Petersham
A family run restaurant and bar with upstairs private dining room in a comfortable, relaxed environment.
135 Petersham Road, Richmond TW10 7AA
020 8940 8005
Fox & Duck
Village pub situated between Ham and Richmond, a short walk from the Thames.
194 Petersham Road, Richmond TW10 7AD
020 8940 4944
The Alexander Pope
The Alexander Room, with its private terrace, is ideally suited to small family gatherings.
Cross Deep, Twickenham TW1 4RB
020 8892 3050
Cabbage Patch
Rugby-themed pub venue with two function rooms available for funeral receptions, conveniently located near Twickenham railway station.
67 London Road, Twickenham TW1 3SZ
020 8892 3874
Orleans House Gallery
Orleans House Gallery and the stunning Octagon Room provide the peace of the countryside within an urban landscape for a serene funeral reception.
Riverside, Twickenham TW1 3DJ
020 8831 6487
Cole Court
A function venue close to Twickenham Station with a large banqueting room and fully serviced bar. Can comfortably seat 100 people for a funeral reception, maximum capacity is 120 seated. There is also a garden area with outside seating. Smaller private dining rooms are also available.
150 London Road, Twickenham TW1 1HD
020 8892 1131
Richmond Athletic Ground
Two bar areas available for hire provide a traditional and simple environment with catering and free parking.
Twickenham Road, Richmond TW9 2SF
020 8940 0397
Twickenham Rowing Club
Magnificent balcony views over the river from Eel Pie Island, with flexible space that can accommodate 80 guests (standing/buffet) or 60 for formal seated dining.
Eel Pie Island, Twickenham TW1 3DY
020 8892 5291
Twickenham Yacht Club
Perfect for those looking to celebrate the life of someone with a river connection – but you do need a member to propose you.
Riverside, Twickenham TW1 3DL
020 8892 8487
Whitton Community Centre
Trimble bar is often used for funeral wakes and celebrations of life. Reasonable prices.
Percy Road, Twickenham TW2 6JL
020 8894 4452
Winning Post
Good food, big function room for funeral wakes. Located near South West Middlesex Crematorium, with easy access to the M3 and M25.
Chertsey Road, Whitton, Twickenham TW2 6LS
020 8894 2772
VENUES IN TEDDINGTON & HAMPTON HILL
Teddington Cricket Club
With a fabulous pavilion (built in 2021) and views overlooking Bushy Park, this clubhouse can provide catering and a bar for funeral receptions. Plenty of parking.
Dora Jordan Road, Teddington, TW11 0EP
07956 406 636
The Park Teddington
Beautiful building with smart bar and restaurant, renovated in 2019 to a high standard, with parking near Teddington Station.
19 Park Road, Teddington, TW11 0AB
020 8614 9700
The Wharf
A beautiful and tranquil location, with an intimate space ideal for a smaller gathering on the first floor for a funeral wake with drinks and buffet.
22 Manor Road, Teddington TW11 8BG
020 8977 6333
Tamesis Club
The clubhouse has a bar and large windows all along the river front providing excellent views of the river with a veranda facing onto a lawn. For funeral receptions the clubhouse can accommodate up to 100 diners.
Trowlock Way, Broom Road, Teddington TW11 9QY
Online contact form (no phone number available)
Strawberry Hill Golf Club
A discreet and quiet venue for those occasions when privacy is important. Convenient location near Strawberry Hill Station with a car park.
Wellesley Road Strawberry Hill Twickenham TW2 5SD
020 8894 0165
The Lensbury
A choice of good sized function rooms for large or small private gatherings, with in-house catering for funeral receptions.
Broom Road, Teddington, TW11 9NU
020 8614 6500
Teddington Constitutional Club
A social club in the heart of Teddington with a car park for about 15 cars. Ideal budget funeral reception venue.
5 Stanley Rd, Teddington TW11 8TP
020 8977 8666
La Dolce Vita
Dolce Vita provides a simple buffet for a family gathering following a funeral. Mauricio the owner is charming and empathetic.
195 Waldegrave Road, Teddington TW11 8LX
020 8977 8779
Hampton Hill Theatre
The Coward Room and Yardley Room makes the ideal self-contained function venue for a wake in Hampton Hill.
90 High Street, Hampton Hill TW12 1NZ
0845 519 4546
Bushy Park Clubhouse (Teddington RFC)
Overlooking Bushy Park, this sports club bar / venue is perfect for up to 80 guests for a funeral reception – or a smaller group. Parking is available in the Clapperstile Car Park. Enter Bushy Park through the Coleshill Road gate and the rugby club is in the right.
Dora Jordan Road, Teddington TW11 0EA
020 8977 6395
Funeral reception venues in Kingston upon Thames
venues IN Kingston, Surbiton and Hampton Wick
Warren House
Victorian, Grade II listed building and is set within four acres of peaceful landscaped gardens, with elegant ground floor garden rooms which are often used for funeral receptions.
Warren Road, Kingston-upon-Thames, Surrey, KT2 7HY
020 8547 1777
The Harts Boatyard
A stunning riverside gastropub, this stylish and atmospheric pub serves canapés to buffets for funeral receptions. Plenty of parking available.
Portsmouth Road, Surbiton KT6 4ES
020 8399 7515
Coombe Wood Golf Club
From a simple buffet to a large wake, or just somewhere private to reflect with family and friends.
George Road, Kingston KT2 7NS
020 8942 0388
Hampton Court Palace Golf Club
A private function room upstairs with a bar area, offering privacy and comfort in a beautiful and serene setting.
Home Park, Kingston, Surrey KT1 4AD
020 8977 2423
Hampton Wick Royal Cricket Club
Set in the beautiful surroundings of Bushy Park, a private, family friendly and versatile venue for funeral receptions. Full range of catering choices for all budgets, accommodating 100+ people.
Bushy Park, Park Road, Hampton Wick, Kingston upon Thames KT1 4AZ
020 8977 2378
Glenmore House
A range of individually diverse rooms, two fantastic bars, and an accomplished team of Chefs and Front of House staff.
6 The Crescent, Surbiton, Surrey KT6 4BN
020 8399 1415
venues IN East Molesey & Hampton Court
Molesey Boat Club
Traditional clubroom, which includes a bar and large balcony, located a short stroll from Hampton Court.
Barge Walk, Molesey, East Molesey KT8 9AJ
Phone number unknown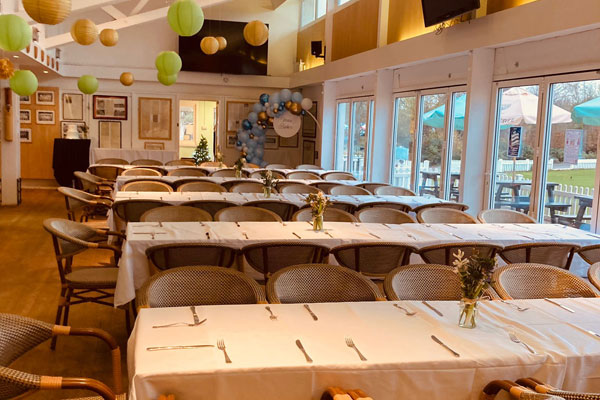 East Molesey Cricket Club
A historic club located alongside the South bank of the Thames, half a mile from Hampton Court Palace. Can host funeral wakes for up to 120 people inside, with another 30 on the terrace. Catering is provided by Miss Polly Cafe (Joanna Annells).
The Memorial Cricket Ground, Graburn Way, East Molesey KT8 9AL
07860 270 739
Thames Motor Yacht Club
The clubhouse has a modern bar & seating area. Set back from the road, and with private river frontage on the Thames, it is located next to Hampton Court Bridge. Seating for up to 90 people.
Hampton Court Road, East Molesey KT8 9BW
020 8979 2298
The Bell Inn in Hampton
A lovely function room with own bar, toilets and south facing balcony which overlooks the River Thames.
8 Thames Street, Hampton, Middlesex TW12 2EA
020 8941 9799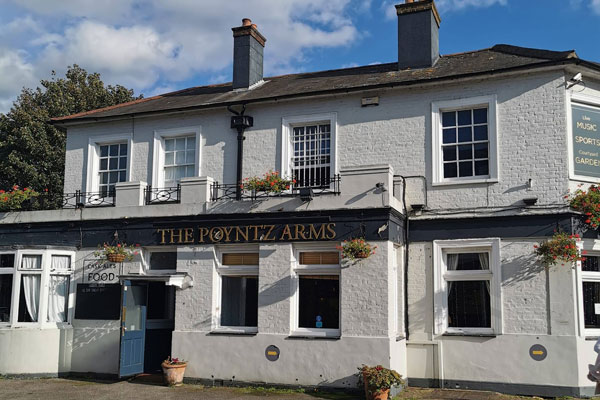 Poyntz Arms
Pub and kitchen in East Molesey village. Homemade freshly prepared traditional pub classics complemented by a selection of fine wines, craft beers and real ales.
85 Walton Road, East Molesey, Surrey KT8 0DP
020 8224 1049
Funeral reception venues IN South West London
venues NEAR Putney Vale Crematorium
The Telegraph in Putney Heath
A country pub feel with views over Putney Heath. Drink or dine over two floors, also has a large pub garden. Classic British dishes complemented by more exotic influences from other parts of the world.
Putney Heath, Putney, London SW15 3TU
020 8194 2808
Cannizaro House
A range of spaces and private dining rooms for a funeral reception for up to 180 guests within easy reach of Putney Vale Crematorium (Cannizaro House is also called Hotel du Vin Wimbledon).
West Side Common, London SW19 4UE
0330 016 0390
The Fox & Grapes, Wimbledon Village
Independent gastro-pub in Wimbledon Village, on the edge of Wimbledon Common. Modern English menus deliver classic favourites with a twist. Friendly and cosy, The Fox & Grapes can tailor a funeral wake to suit your requirements
9 Camp Road Wimbledon Common, London SW19 4UN
020 8619 1300
Dog & Fox, Wimbledon Village
A boutique hotel, event venue and restaurant serving quintessential British delicacies. With pub seating, two outside terraces, three bookable spaces in the pub and a separate events venue, the Coach House.
24 High Street, Wimbledon Village, London SW19 5EA
020 8946 6565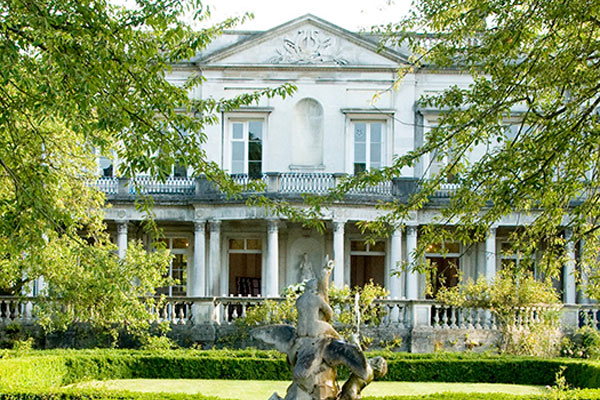 Grove House Roehampton
Stunning Grade ll listed Georgian mansion set amidst landscaped gardens close to Richmond Park. Perfect for a secluded wake or family gathering with stunning views.
Froebel College, Roehampton Lane, Roehampton, London SW15 5PJ
020 8392 3505
Parkstead House
Iconic 18th century villa with high ceilings and tall windows giving views of Richmond Park.
Elm Grove Conference Centre, Roehampton Lane, London SW15 5PH
020 8392 3505
venues IN Chiswick, Hammersmith & Brentford
Linden House
A quiet ambience and peaceful location makes this Grade II listed Georgian riverside venue the perfect funeral reception venue.
Upper Mall, Hammersmith, London W6 9TA
020 8748 1841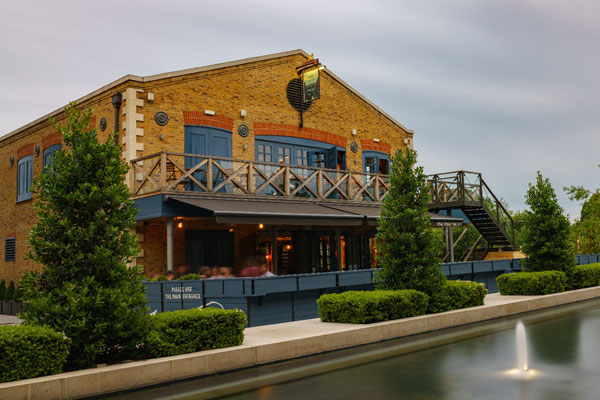 One Over the Ait
A truly striking pub perched on the Thames, large wrap-around windows give impressive views of the river.
8 Kew Bridge Road, Brentford TW8 0FJ
020 3581 5700
Quintin Hogg Memorial Sports Ground
Historic boathouse on the river with two function rooms, catering provision and bars, suitable for a funeral wake.
Hartington Road, Chiswick, London W4 3UH
020 7911 5802
Funeral reception venues FOR Natural Burial Grounds
venues NEAR GreenAcres Chilterns
The Plough, Winchmore Hill
A stylish village pub, comfortable bar & restaurant with open fires, sofas and a relaxed atmosphere. The Plough is able to cater for funeral wakes with afternoon tea, relaxed pizzas or traditional hot food.
The Hill, Winchmore Hill, Amersham HP7 0PA
01494 259757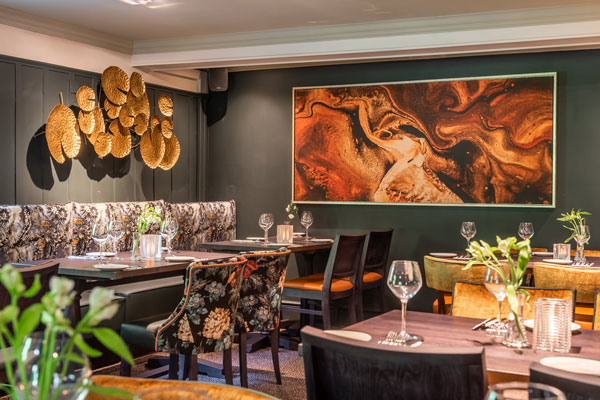 The Spade Oak, Bourne End
The Spade Oak is a stylish, modern pub, bar and restaurant with a range of spaces for a funeral reception.
Coldmoorholme Lane, Bourne End, Buckinghamshire SL8 5PS
01628 520 090
The Three Horseshoes, Seer Green
A spacious family-run pub with a relaxed vibe, reasonable buffet prices and a large sunny garden. Can provide an exclusive area for a funeral wake.
22 Orchard Road, Seer Green HP9 2XX
01494 677 522
The Three Oaks, Gerrards Cross
An award winning country pub with a relaxed, informal atmosphere offering excellent food, wine & service.
Austenwood Lane, Gerrards Cross, Bucks SL9 8NL
01753 899 016
The Ivy House
A lovely flint and brick old English inn, located in the heart of the Chiltern Vale. Family-friendly, serving excellent food and real ales. Outdoor seating and parking available.
London Road, Chalfont St Giles, Buckinghamshire HP8 4RS
01494 872184
Crowne Plaza Gerrards Cross
A striking building with a modern and stylish interior, the Crowne Plaza Gerrards Cross can accommodate 80 people in the Garden Suite, which has an outdoor patio area adjacent to the function room.
Oxford Rd, Beaconsfield HP9 2XE
01753 893 891
Flackwell Heath Golf Club
Accommodating up to 180 guests, their Funeral Reception Tea consists of a selection of freshly made sandwiches, sausage rolls, scones & preserves, a selection of cakes & pastries and tea & coffee. There are no room hire charges for wakes.
Treadaway Road, Flackwell Heath, High Wycombe, Buckinghamshire HP10 9PE
01628 520 929
venues near Clandon Wood Natural Burial Ground & Shamley Green
The Plucky Pheasant, Newlands Corner
A Café/Restaurant situated on the top of Newlands Corner within the Surrey Hills 'area of outstanding natural beauty' with scenic views over the South Downs. It is next to Newlands Corner, where there are woodlands to explore.
Dorking Road, Albury, Guildford, GU4 8SE
01483 225 222
Onslow Arms, West Clandon
Pub and restaurant in Clandon, Surrey serving pub classics with fresh British seasonal ingredients. Extensive pub garden and a private dining room. Large car park.
The Street, West Clandon GU4 7TE
01483 222 447
The Queens Head, East Clandon
Award-winning Surrey village pub serving fresh, seasonal produce. There is a large garden.
The Street, East Clandon GU4 7RY
01483 222 332
The Red Lion, Shamley Green
A traditional village local with open wood burning fires, traditional flagstone flooring and wooden beams. Private function room available.
The Green, Shamley Green, GUILDFORD GU5 0UB
01483 664 161
The Horse & Groom
A country pub, bar and restaurant, with classic and contemporary styling. Cosy corners, comfy armchairs, open log fires and a unique dining room.
Epsom Road, Merrow, Surrey GU1 2RG
01483 575 375