There is a common misconception about so called "pre-paid funeral plans" that they are a guaranteed way of locking in the full cost of a future funeral at today's prices.
Unfortunately, the reality is that many pre-paid funeral plans are highly restrictive and may not cover all the costs for the type of funeral that you would like.
The main problems with some funeral plans are:
Some plan providers pay high commissions to resellers, which is reflected in high administration fees
Not all costs associated with the type of funeral you want may be covered, leaving a shortfall
Some funeral plans tie you into using a particular funeral director – or restrict your choice of funeral directors
There is also the consideration that if the chosen funeral provider is still in business at the time the funeral is needed, or has been taken over
As an independent funeral director, we have had approaches from funeral plan providers asking us to conduct a funeral for one of their plan members at a heavily discounted rate. So the family may have paid £3,500 for a plan and they ask us to fulfil that funeral for £800 to include the coffin and hearse and they pay the crematoria fee approx £600 and doctors fees £164. So, bearing in mind the surplus money not spent on the funeral, you can see in some cases, the system is simply not working as it should.
The pre-paid funeral plan market has been unregulated and subject to misleading, high pressure sales tactics based on the assumption of rising funeral costs. The reason for the rising costs has been subjective to the leading corporate operators in the industry – Dignity, Co-op and Funeral Partners – and them answering to shareholders. The reality is prices will deflate – in particular as the corporates face competition from a genuine independent sector.
The funeral plan market is under investigation and will become regulated by the Financial Conduct Authority in the near future.
What to be aware of in the small print of other Funeral Plans
Look at how the fees are designated % wise to: crematoria fee, coffin and transport type – you may not be covered as you think, and not have the choice or flexibility
These plans are largely based on the assumption of rising funeral costs. If, as predicted, costs come down – ask what happens to the surplus money that isn't spent on the cost of the funeral. Other considerations include:
What commission is paid to the intermediary / reseller?
What is guaranteed within the plan (funeral director costs, disbursements?)
What are the cancellation and administration fees?
What is the growth applied to the plan funds? Is it applied to funeral director costs AND 3rd party costs?
What we recommend:
The Good Funeral Guide Funeral Plan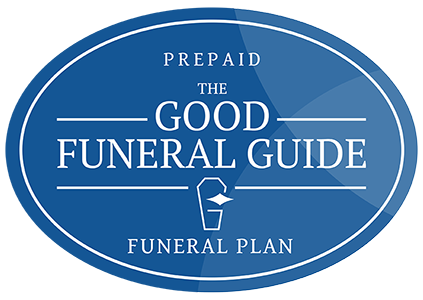 Designed by Charles Cowling, Consumer Champion and Co-Founder of The Good Funeral Guide, the Good Funeral Guide Funeral Plan has been developed with the consumer in mind. The Good Funeral Guide has partnered with Open Prepaid Funerals Ltd to deliver this plan.
Unlike many restrictive funeral plans, this simple, flexible and transparent plan works more like a family savings pot. It is tax-efficient because the money you put in is specifically for funeral expenses and exempt from inheritance tax (it is 'outside your estate').
It is flexible – you can pay in what you can afford when it suits you. You have access to take out funds should you need to. You can include up to five people as 'pot members'.
You are not tied to any particular funeral director, allowing you to compare funeral providers when you need one. No commissions are paid to intermediaries.
The plan is designed to grow at a rate above inflation. When the time comes to pay for the funeral, any money left stays there for other pot members (additional pot members can be added up to a maximum of 5 at any one time).
Plan fees: There is just a one-off £195 admin fee. Additional 'pot members' can be added for £95 each.
Alternatively, if inheritance tax isn't an issue
Open a savings account specifically for funeral planning, and make sure a family member has power of attorney to use this account when the need arises.
The team at White Rose Modern Funerals are always on hand to answer any questions you may have about funeral plans. We are happy to meet at the family home or in our office in Teddington to discuss all the options. If you have any specific questions about funeral plans in the meantime, please feel free to call us on 020 3281 1045.