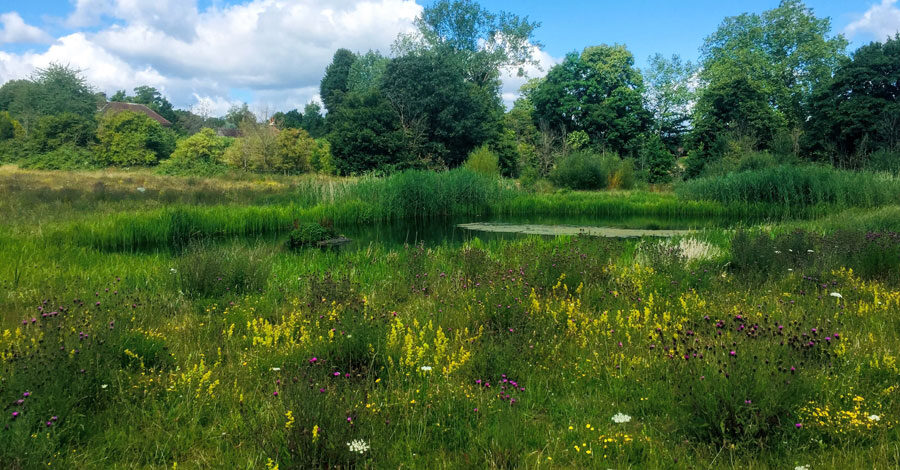 Cemeteries or graveyards are local authority owned land set aside for burials and interment of ashes. There may be trees planted, but the scene is dominated by rows of graves marked with headstones and typically a chapel for holding ceremonies.
Natural burial grounds are mostly privately owned locations in a scenic setting where native plants, flowers and wildlife are encouraged to flourish, whilst allowing for burials without permanent grave memorials. Some have a ceremonial hall available, others allow for graveside services only.
Many local cemeteries, especially in London, are reaching capacity or may even be closed to new burial plots. There has been a surge in natural burial grounds over the last few years, as more families opt for a more natural setting out of environmental or aesthetic considerations.
Cemetery burials and fees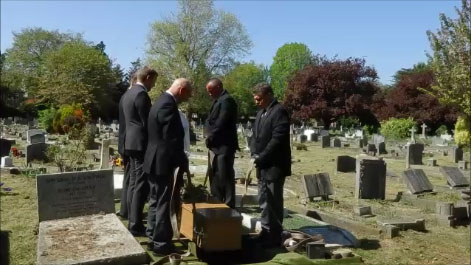 Cemetery grounds are generally owned and run by local councils. Where there is still space available, you can purchase a burial plot which can accommodate up to four interments (for a family plot).
If you are buying a new plot, you will need to pay a purchase fee which varies depending on which cemetery you choose and whether you and/or the person who died is eligible for a residents discount.
You will then also need to pay a separate burial fee for each interment, which depends on the depth of the grave. A standard depth will accommodate two interments, but you can pay extra to allow for three or four. If there is already a family grave with space still available, there's no purchase fee payable, just the burial fee plus the removal fee for any existing memorial.
In a cemetery there are typically two types of graves – traditional graves and lawn graves. Traditional graves allow for planting and a more substantial memorial, however not all cemeteries have space available for these types of graves. Lawn graves are simpler, limiting the memorial to a headstone, which is also reflected in the cost.
Ownership of the plot is not indefinite. The Deed of Exclusive Right of Burial is normally for 50 or 75 years (although it can be extended). The person named on the Deed is the registered owner and is exclusive right to allow a burial to take place in the grave. Where the owner has previously died and a new interment is required, a transfer of ownership of the Deed will be required.
Most cemeteries also have a chapel which can be used for the funeral service (except during the current Coronavirus pandemic when only graveside services are permitted).
Each cemetery has its own fee schedule and some cemeteries will be full, with no new graves available. Typical purchase fees will be around £2,000 to £3,000 (based on residents' 50% discount) with burial fees in the region of £2,000 – in some cemeteries much higher. The cost of transferring ownership of the Deed is around £200.
You may be able to purchase a grave for future use (purchase and reserve) for which the fee may be higher than if you are purchasing at the same time as the burial (purchase and grant). Grave plots can also hold cremated remains.
When a burial has taken place, a temporary gravemarker will be used to identify the grave. A memorial stonemason can then create the permanent memorial (for a traditional grave this may need to wait 6 months to a year for the ground to settle).
There is a fee if you want to hire the chapel for a service, typically around £140.
Natural burials and fees
Natural burial grounds can be woodlands, wildflower meadows or parks in areas of natural beauty. Most are privately owned or owned by a trust and each has its own fee schedule. Typically the burial plot is leased for a period ranging from 25 to 75 years, or there may be options lasting the life of the burial ground.
Natural burials grounds have strict rules on memorialisation and planting – typically no permanent grave markers are allowed, however you may have a wooden plaque or memorial and the exact location of the grave will be recorded through mapping or geotagging. Coffins should be made from biodegradable materials (e.g. untreated wood, wicker, cardboard, bamboo) and embalming of the body is not permitted.
The plot fee depends on the location of the grave and the length of ownership – these fees can range from £1,500 to several thousand pounds. Local residency discounts do not apply.
Interment fees, which cover preparation of the grave and administration costs, may be in the region of £600 – £700.
If a ceremonial hall or pavilion is available to hire for a service or wake, the fee will typically be in the region of £350 – £450.
Which option to choose – cemetery graveyard or natural burial ground?
You may already intuitively know which option feels right for your family. Questions to help guide your decision are:
Do you want the grave to be located near your home or are you comfortable with having to travel some distance?
Do you need a permanent headstone or grave memorial or are you comfortable with the grave being indistinguishable from nature?
Are environmental concerns of significance to you or your family member?
Would you prefer a traditional graveyard setting or a more natural setting that changes with the seasons?
Do you require a traditional casket or would you prefer a more natural biodegradable coffin or shroud?
Will the body be embalmed (preserved with formaldehyde)?
The ethos of a natural burial ground is that eventually the body re-joins the natural life cycle. In a traditional cemetery each grave has its own memorial, whereas the entire natural burial site is the memorial. Natural burial grounds are places of tranquillity which families enjoy visiting, whereas cemeteries may appear more sterile places mostly laid to lawn and devoid of natural biodiversity.
Useful links:
> arranging a natural burial funeral
> list of cemeteries in Richmond upon Thames
> list of natural burial grounds in SE England