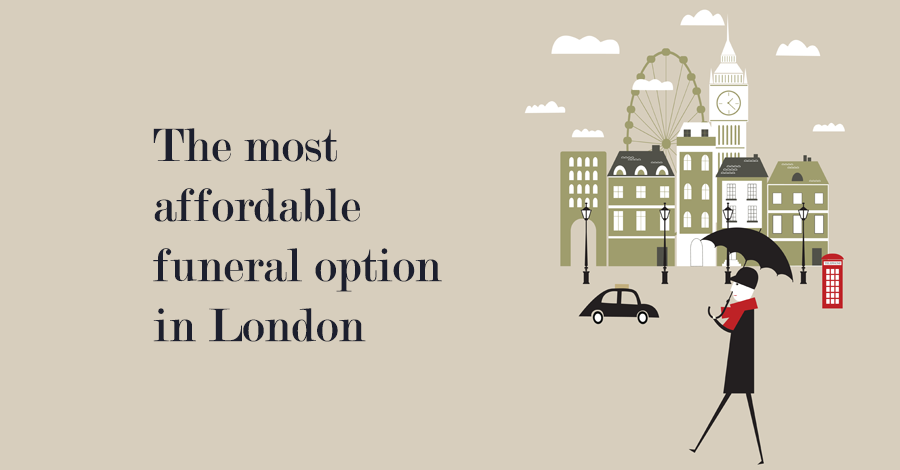 The cheapest funeral packages in London are what's called Direct Cremations. A direct cremation is a no-frills funeral that eliminates the need for a funeral home and traditional funeral director. This can save you thousands of pounds on funeral costs.
With a direct cremation, there is no viewing of your loved one beforehand – the deceased is transported directly from the mortuary to the crematorium. As there is no funeral procession, there are no pallbearers required.
You can choose whether or not to attend the cremation service. An unattended direct cremation is cheaper, but it won't cost that much more if you'd rather attend – especially if you keep numbers to a minimum (just close family members for example). See our Attended No Fuss Funeral.
If you choose to attend the cremation, you will have the opportunity to say a few words and have selected music played. There is time to say a few words about the person who has died – or you could pay for a celebrant to do this.
Whichever option you choose, the ashes will be provided to you a few days afterwards, giving you the opportunity to organise a scattering of ashes or celebration of life service at a later date. Alternatively, the ashes could be scattered in the crematorium's garden of remembrance.
How much does a direct cremation in London cost?
For an unattended direct cremation in London, you shouldn't be paying much more than £1,400 in total.
A direct cremation can save up to 70% off the cost of a more traditional funeral – but having said that, a non-attended funeral will not be right for everyone. With White Rose Modern Funerals, you can arrange an attended simple cremation by spending just a little more, still eminently possible on a tight budget.
How to organise a direct cremation in London
Before organising the direct cremation, you need to:
Obtain the Medical Certificate from the hospital or doctor
Register the death at your local council Register Office
Obtain the Certificate for Burial or Cremation from the Registrar
Once you have the necessary paperwork, you can book the crematorium and make arrangements for the day itself.
Most people are happy to take care of certain tasks themselves, but prefer to obtain help with some things like ensuring that the paperwork is completely correctly and submitted to the crematorium on time, as well as transporting the coffin to the crematorium.
That's where White Rose Modern Funerals can step in. With our low cost direct cremation service, we will ensure the whole process runs smoothly and all your requirements are met. Whether you want a basic, unattended Direct Cremation or an attended Simple Cremation service, we will make all the arrangements and be there on the day to support you.
If you have any questions regarding organising an affordable funeral in London, please call White Rose Modern Funerals on 020 3281 1045 and we will be happy to help. We can arrange a home visit to discuss the options and explain exactly how it works.