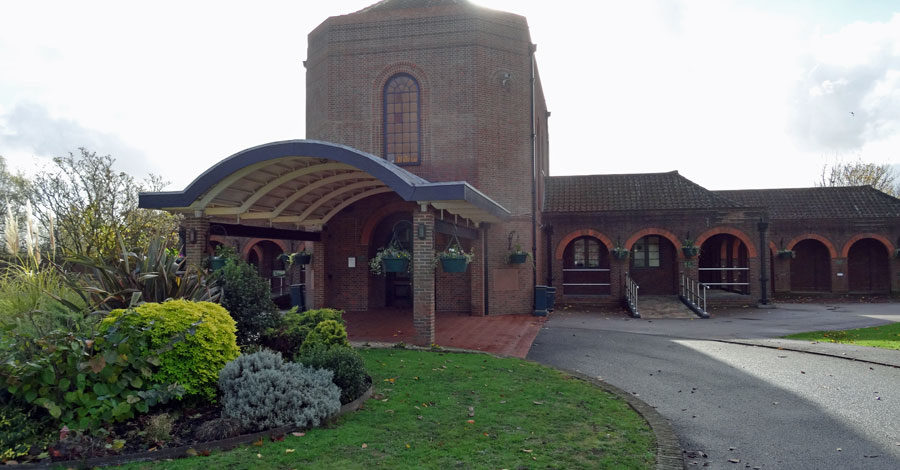 To arrange a funeral with a cremation at Kingston Crematorium is a straightforward process that we at White Rose Modern Funerals are very familiar with as we regularly help families to do this.
The team at Kingston Crematorium are knowledgeable and helpful. You can arrange to visit the crematorium if you would like to familiarise yourself with it in advance.
Organising the paperwork
First of all you will need to register the death with the Registrar of Births, Deaths and Marriages. If the death occurred locally within Kingston upon Thames (for example at Kingston Hospital) you should do this at Kingston Register Office.
The registrar will provide you with the Certificate for Burial or Cremation, which is referred to as 'the Green Form' because it's printed on green paper. The only exception is if the death was reported to the Coroner, in which case you need to wait for permission from the Coroner before you can register the death.
To book a cremation at Kingston Crematorium, you will also need to obtain the official cremation forms which are Cremation Forms 4 and 5. These are official forms that will be signed by two doctors and there is a cost of £164 for these. You will normally obtain these either from the doctor who signed the Medical Certificate of Cause of Death and a second doctor. If the death was reported to the Coroner and there was a post-mortem, then a different form, Cremation Form 6, will be submitted – in which case you won't need to pay for forms 4 and 5.
If the death occurred at a hospital such as Kingston Hospital, you will be given the cremations forms by the hospital's Patient Affairs Office. In this case you should also request the yellow Release Form which is an authorisation for the deceased to be collected from the hospital mortuary.
At White Rose, we can help with the process of organising all the paperwork required for a cremation which can usually be completed within a week. If we are organising the cremation for you, all of these forms should be handed to us.
Booking a cremation at Kingston Crematorium
Once you have the paperwork in place, the cremation can be booked by calling or visiting the office at Kingston Crematorium (see contact details below). You can reserve a date and time for the cremation over the phone (call during office hours) and then the paperwork will need to be delivered a few days in advance.
To complete the paperwork, you will need to complete two forms. One is the standard application form Cremation Form 1 ('Application for cremation of the body of a person who has died') which can be downloaded from the gov.uk website.
The second form to be completed is the Preliminary Application for Cremation which can be obtained from the office at Kingston Crematorium.
At White Rose we have all of these forms on file, so if we are arranging the cremation then we will ensure that these are all correctly completed.
How much does a cremation at Kingston Crematorium cost?
The cremation fee depends on the timing of the cremation. The standard fee for a cremation at Kingston Crematorium is £655, however if you choose an early morning service (starting at 9am or 9.40am) this fee is reduced to £445. However, for a weekend service the price increases by £620.
Bear in mind that these are just the crematorium fees. For an idea of other costs involved in arranging a cremation funeral, read our blog on how much a cremation funeral costs.
How much time do you get for a cremation at Kingston Crematorium?
The usual service time is 40 minutes, however you should allocate 5 minutes of that for mourners to enter the chapel and 5 minutes to exit, so the actual service time in the Chapel is 30 minutes. You can extend this by paying £300, giving you up to an hour in the Chapel.
The cremation service at Kingston Crematorium
At Kingston Crematorium there is a small chapel that can seat up to 60 attendees seated. There is a waiting room to the left of the chapel.
There are no TV screens within the chapel itself, so if you would like a visual tribute then a large format printed photo should be prepared in advance. CD music can be played (unless you would prefer an organist), however it's a good idea to check the CD in advance to make sure it is playable on their system.
You can have a basic service that is family-led, if you want the simplest, no fuss type of service – or you may want to arrange a celebrant or minister to lead the service. At White Rose Modern Funerals we organise both types of service for families, it is purely down to your personal preference as to what type of service you would like.
After the cremation service, mourners exit the Chapel by the door to the right, where any floral tributes will be on display.
For more advice on planning the cremation service see arranging a funeral.
What happens after the cremation?
You may wish to organise a funeral reception at a local pub or other venue in Kingston upon Thames – see our list of local funeral reception venues. White Rose Modern Funerals can help make the arrangements for you.
The ashes will be ready for collection a few days after the cremation. When booking the cremation, you will have specified if these are to be collected or strewn in the crematorium's Garden of Remembrance. At White Rose we are happy to personally hand deliver the ashes to the family.
How to find Kingston Crematorium
Kingston Crematorium is located within the grounds of Kingston Cemetery at the top of Bonner Hill Road, which you can access from Hawks Road (see map below). It is most easily accessed by car and there is free parking at the crematorium.
When you first enter, you will find the office on the right hand side just inside the gates. The crematorium itself is at the end of the drive (you need to drive through the archway of the old chapel to reach the newer crematorium building).
Contact details for Kingston Crematorium:
Kingston Cemetery and Crematorium
Bonner Hill Road
Kingston upon Thames
KT1 3EZ
Telephone: 020 8546 4462
Email: cemeteries@rbk.kingston.gov.uk
Kingston Crematorium Website
At White Rose we can arrange a simple No Fuss Cremation Service, typically either attended by a small group of family members or even unattended in the case of a direct cremation at Kingston Crematorium. We can also arrange a fully personalised funeral service at Kingston Crematorium, which may include a service led by a celebrant or minister.
Please call us on 020 3281 1045 to discuss organising a cremation at Kingston Crematorium.