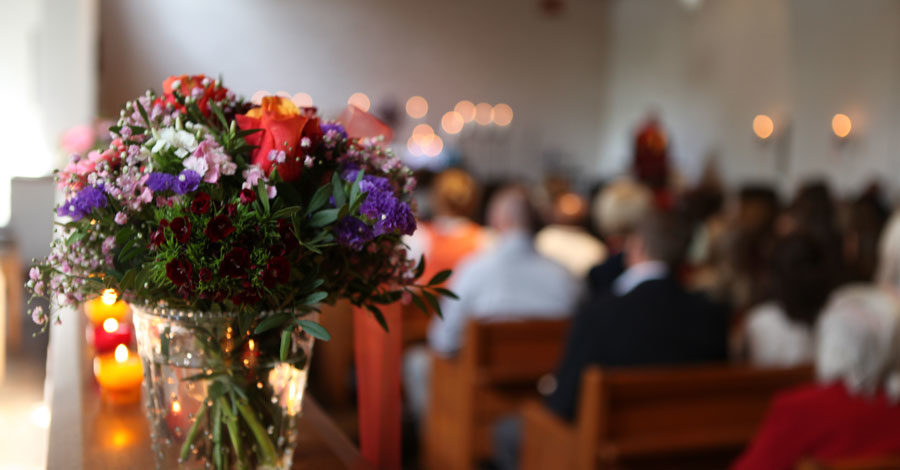 People often believe that a funeral service should follow a set structure or format. There are certainly common elements that are typically included, such as orders of service, eulogies and music.
But the funeral service should ideally reflect the life and personality of your loved one. The more unique and memorable you can make it, the more personal it will feel.
You can be as creative as you like when it comes to personalising a funeral.
Here are just a few ideas on how to personalise a funeral ceremony:
Bring flowers from your own family garden to place on the coffin.
Did your loved one enjoy a particular hobby or drink? Bring along any items related to those to place in the room.
Light scented candles.
Place chairs around the coffin rather than sitting in the pews, particularly if only a small group is attending.
Decorate the coffin – or drape a particular flag over it (e.g. sports team, military, national).
Invite family members to carry the coffin.
Write your own poem or speech.
Choose music that has personal memories or invite a musical family member to perform a piece of music – you can read more about choosing music for a funeral.
Personalise the Order of Service with photographs. Scanning old photos works well.
Invite your guests to share their memories in a book of remembrance.
Specify a particular dress code. Funerals with a fancy dress theme are not unheard of!
A good send-off is one that will be remembered long after the service has ended, mainly thanks to the small personal touches that help make it unique.
At White Rose Modern Funerals we encourage families to take ownership of the funeral arrangements, whilst guiding them through the process. We are happy to meet in the comfort of your own home and help you plan a funeral service that is right for you. Call us on 020 3281 1045.