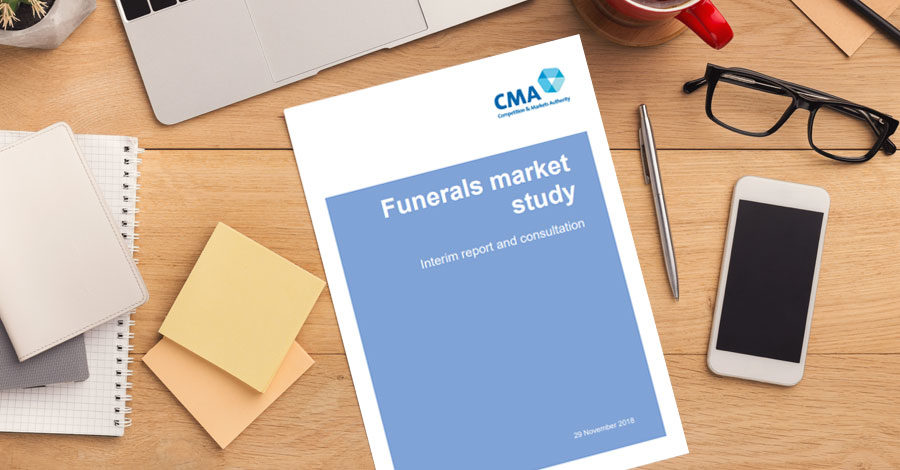 The Competition and Markets Authority is currently investigating the funeral industry in response to consistently increasing funerals costs that some families are struggling to afford.
The Funerals Market Study is looking at whether funeral directors and crematoria are providing value for money and if there is healthy price competition amongst them.
According to CMA research, the average cost of a funeral has risen to nearly £4,300, with discretionary items (flowers, catering, etc) adding a further £2,000 to the bill. Families typically spend between £3,000 and £5,000 in total on a funeral.
The Interim Report published by the CMA in November 2018 highlights three unique features of the funeral market that insulate it from normal competitive market forces.
Firstly, most funerals are an 'at need' purchase made by inexperienced buyers at a time when they are particularly vulnerable and time-pressured. According to CMA research, only 14% of people compare the services of two or more funeral directors when deciding which one to use.
Secondly there is a general lack of pricing transparency on behalf of many funeral directors, making it hard for consumers to compare like for like. Less than 40% of funeral companies publish full pricing online.
And thirdly, the three largest providers of funeral services – Dignity, Co-op and Funeral Partners – have led the way with consistently increasing prices. Families are often unaware that they are dealing with a national company, since local brands are often retained after acquisition.
The CMA is proposing a Market Investigation Reference which could lead to potential remedies such as further regulation of the industry, enforcing greater pricing transparency and other initiatives to make the market more competitive.
The low cost funeral option that most people are unaware of
One of the key findings of the CMA study is the lack of awareness on behalf of buyers of more affordable funeral options. These are generally poorly promoted by funeral directors who prefer to focus on traditional 'full service' funerals.
Our mission at White Rose is to help change this. The last few years have seen the introduction of new, lower cost funeral options – specifically simple funerals and direct cremations.
Simple funerals help families to save money by eliminating aspects of a funeral that may be seen as unnecessary. Things like embalming, viewing of the body, shiny hearses, limousines for mourners and a large, formal ceremony at the time of the cremation.
Direct cremations go further, eliminating not just the funeral home but also the mourners. An unattended direct cremation takes place at a date and time determined by the funeral provider and the ashes are then typically delivered to the family a few days later.
Many families are starting to make use of simple funerals and direct cremations not just for financial reasons. Organising things differently gives them more flexibility to arrange a separate send-off or 'celebration of life' service at a later date.
So how does a simple funeral or direct cremation differ to a traditional or 'full service' funeral?
Here is a summary of some of the key differences and the range of prices you might expect to pay:
Traditional / full service
Simple cremation
Direct cremation
Collection and care of the deceased
✓
✓
✓
Completion of official paperwork
✓
✓
✓
Viewing in Chapel of Rest
✓
✗
✗
Coffin
✓
Basic coffin
Basic coffin
Transporting coffin to crematorium
Hearse
Suitable vehicle
Suitable vehicle
Limousines for mourners
✓
✗
✗
Pallbearers
✓
Optional extra
✗
Mourners attend cremation
✓
✓
✗
Choice of crematoria and timing
✓
Limited
✗
Separate funeral ceremony
✓
Not included, but can have send-off or 'celebration of life'
Minister or Celebrant
✓
Optional extra
✗
Crematorium chapel committal service
✓
✓
✗
Collection and delivery of ashes
✓
✓
✓
Co-ordination of additional extras
✓
✓
✗
Typical price range
£2,500 – £4,000
£1,550 – £2,500
£950 – £1,800
The above table includes the key services required of a funeral director.
A proactive funeral director will also take care of practical arrangements, such as taking the flowers to the crematorium, directing mourners on the day, collecting the cards from the floral tributes and hand delivering the ashes.
In addition, there may be additional third party costs (called disbursements) and other optional extras:
Crematorium or burial fees
Doctor's fees for cremation certificates
Additional limousine hire
Music for the service (live or recorded)
Floral tributes
Service stationery (order of service)
Obituary notices
Catering
Venue hire
Memorial or headstone
Because every funeral is different, they cannot be compared in the same ways as more typical financial transactions such as changing utility providers or buying a car.
Funerals are highly personal occasions that have to meet practical as well as emotional needs. Families want to ensure that their loved one's wishes have been fully respected and they have a 'meaningful farewell'.
But that shouldn't give funeral directors free reign to charge exorbitant fees or steer clients away from more affordable options that may be more suitable.
And it doesn't mean that anything other that a full service traditional funeral should be viewed as somehow disrespectful or sub-standard.
Done well, a simple funeral can be equally personal, dignified and meaningful – if not more so when a separate send-off or 'celebration of life' service is planned.
Funerals involving a cremation are more popular than burials, accounting for 77% of funerals, so this blog article focuses on cremation funerals. More information about the CMA Report and Funeral Markets Study can be found here. If you would like help with arranging an affordable funeral speak to the White Rose Modern Funerals team today on 020 3281 1045.