Our No Fuss pre-10am simple cremation funeral is for families where Direct Cremation (an unattended funeral without a service) feels too remote – but neither do you want a full service funeral.
The benefits of a pre-10am service
Typically attended by 1 – 15  people, the early morning service helps families that wish to keep things more intimate. It also helps avoid the pressure of feeling you have to invite a larger crowd.
Some families just like to quietly reflect, others like to listen to favourite music – or some families create their own simple service – we can advise.
Service times are at 9am or 9.30am, at either Mortlake, Putney Vale or Kingston Crematorium. The chapel service time is 20 minutes.
With the selected crematoria offering a discounted rate pre-10am, it also minimises costs.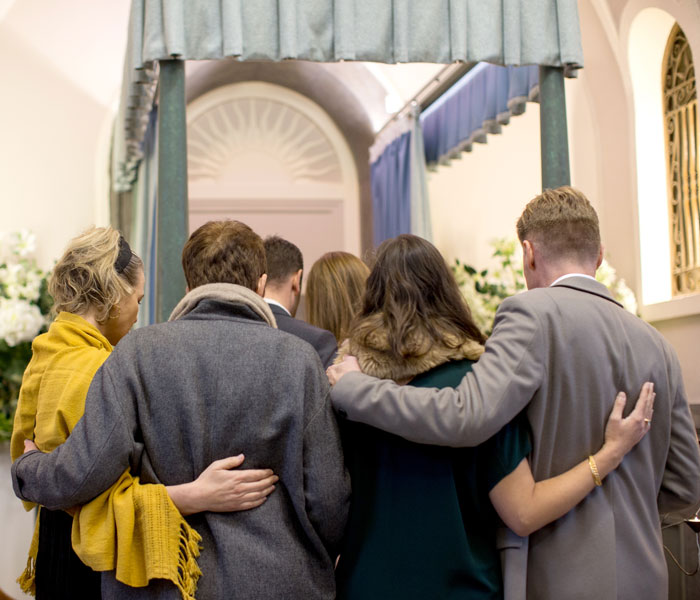 Pricing explained
Our pricing for a No Fuss Pre-10am Cremation funeral includes the essentials needed for a simple family farewell. Should you not like the basic cardboard coffin, then our London (oak veneer) or Simple Willow can be provided at an additional cost as shown below.
| | |
| --- | --- |
| White Rose Modern Funerals fee * | £1,550 |
| Crematorium Fees (for pre-10am service) | £310 – £445 |
| Doctor's certificate for cremation | £82 |
| Transporting the coffin (we use our Galaxy hearsette) | No charge |
| Coffin (basic handleless cardboard coffin) | No charge |
| | |
| --- | --- |
| Should you prefer an alternative choice of coffin, our London or Simple Willow coffin can be chosen at an additional cost (please note there is no transferable value of the cardboard coffin) | London Coffin £245 / Simple Willow £465 |
| Flowers – we recommend Leonoor, Rose & Mary (you order through and pay her direct) | Hand tied bouquets from £85 |
| Dressing your family member in chosen outfit (dressing is a personal choice and not obligatory – a dignified soft coffin sheet is also used) | £75 |
| Pacemaker removal (if required) | £95 |
| Out of hours collection for homes and care homes (3pm – 8am, weekends and bank holidays) | £225 |
| Out of area collection (typically hospital outside of London, elsewhere in UK) | £1.50 per mile |
Ballpark figures
A no-fuss pre-10am funeral at Mortlake Crematorium with the basic coffin will cost £1,997 inclusive
If you wish to upgrade the coffin: London coffin £2,242 or the Simple Willow £2,462
* Click to view what our fee includes
Arranging the funeral and legal forms, collection and looking after your relative at our private facilities, hand-holding you through the process taking care of all the details, personal access to a team member including outside of office hours, our attendance on the day.
Payment terms: we appreciate how much you have to sort at this time, our terms are within 21 days of the funeral date, with payment by bank transfer.
We're here to help you - call 020 3281 1045
What happens at a No Fuss Cremation Funeral?
A No Fuss Pre-10am Cremation funeral is typically family led and is quiet time in the crematorium chapel, where a choice of music can be played.
Some families sit quietly using the time to reflect, others share memories or personal tributes. Some read out a final letter they'd like to have written.
We describe it as a meaningful family farewell, that can offer a sense of comfort in a no-fuss but dignified way.
We can help advise and open and close the service for you if needed.
Why is pre 10am cheaper?
Our pre-10am service is offered at Mortlake, Putney Vale or Kingston Crematorium only, for logistical reasons and that they offer a discounted rate pre-10am. The service time is shorter – 20 minutes instead of 30.
The 9am or 9.30am times also make it easier for families to communicate that it is just for immediate family to attend, and avoid the pressure of a larger crowd.
If family logistics mean the pre-10am time does not work for you, please get in touch and we can discuss.
About us
It was our own need for a no fuss approach to funerals that led us to start White Rose Modern Funerals.
From our own experience and research, we knew that not every family wishes for a full funeral service – but they do wish to be at the chapel to say farewell in their own meaningful way.
With some crematoriums offering a discounted rate pre-10am, we designed this service for families, opening and closing the service for you if needed.
The early morning service means families have a dignified low-cost family farewell, that also takes the stress away from inviting a larger crowd.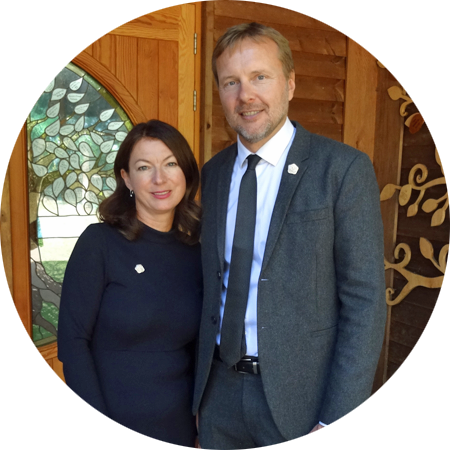 Our family could not have asked for a better interpretation of our description of a service which my husband had wanted. We are left with memories of a calm and peaceful day. Sheila S