Personalised Cremation Funeral
(lockdown adapted)
£1,750 + 3rd party costs and options
During lockdown, we have adapted our cremation funeral services and pricing to be simpler for families.
This is due to many crematoriums reducing their service time to 20 minutes, and generally the number of people attending a funeral being far less than the restriction of 30 people.
Pricing
3rd party costs are the crematorium fee (subjective to crematorium, typically £560 – £670) and £82 for the doctor's certificate for cremation.
If you wish to keep a funeral as simple as possible, with transport, simple coffin and the service being family led, there would be no optional costs (other than flowers if you wished to order them) so the funeral cost would be around £2,392
If you wished to have more of a sense of occasion with hearse transport, personal choice of coffin and a minister or celebrant to lead the service you would be looking from around £3,200.
You have choices and flexibility to personalise a funeral,  we transparently list all options in a fee summary,  so you know you are only paying for what you want.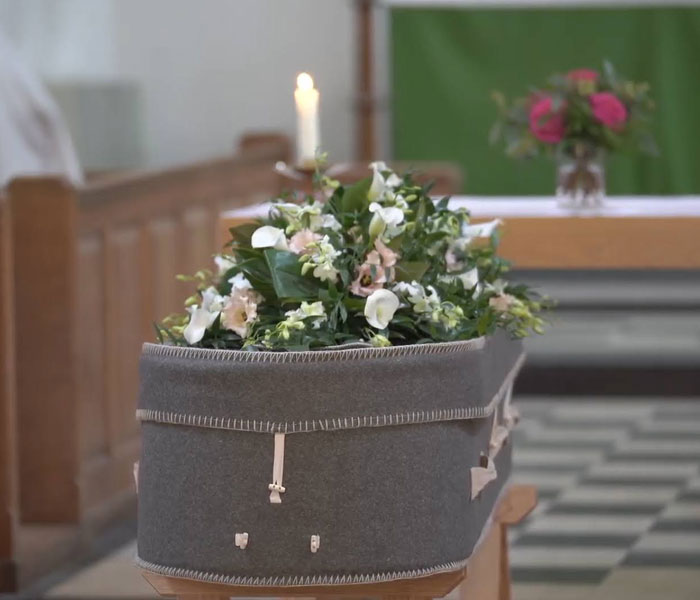 £1,750 + 3rd party costs & options
We serve families in West / SW London to NE Surrey
How to adapt a funeral during the pandemic
Number restrictions
The current legal maximum is for 30 people to attend.  However some chapels can only allow 20 people due to its size and social spacing – we can advise.
For people who cannot attend, the use of live webcasting and video is helping enormously.
Despite the number restrictions, many families comment they prefer not having the stress of a larger crowd and appreciate the intimacy of a smaller funeral.
We are seeing many thoughtful, family farewells and can advise on how to create a  meaningful service.
Style of funeral ceremony – informal or a sense of occasion
The starting point is to consider if you would like a no fuss approach or a sense of tradition or occasion. Below is to give you an idea of choices.
Informal transport – is where we use our Galaxy hearsette (coffin is not visible from the outside)
Formal transport – is where we use a  hearse for transport
Informal start to ceremony – we pre-place the coffin into the chapel before family are invited to enter
Formal start to ceremony – the coffin is carried in by pallbearers – can be family or we can organise pallbearers
If you wish to keep things no-fuss the hearsette and pre-placement of the coffin is the simplest way – and minimises costs.
If you prefer a touch of ceremony, then the arrival of a hearse carrying the coffin and the coffin being carried in, adds a sense of occasion.
Flowers – our talented florist creates hand-tied coffin bouquets that families can take away after as an alternative to a formal coffin spray if you wish.
Style of service
Family led service – If you wish to keep things really simple, many families opt for a family led funeral – no minister or celebrant – where they just quietly reflect listening to music and share a few memories with each other.
We have seen many heartfelt farewells led this way with a mixture of tears and laughter. If required, we can open and close the service for you.
Celebrant led – If you would like a helping hand to plan and write a service for you, we work with a talented team of celebrants we recommend.
With many service times being restricted to 20 minutes, it's working out how to best use that time. If it is just immediate family attending, you may not feel a need for a eulogy. Families have instead looked at ways of sharing favourite memories and stories.
Minister led – If your loved one followed a particular faith, a minister can lead a service for you. Should you not know of a minister or have no connection with a church, we can find a minister for you within the parish of where your family member lived – your family member does not have to have attended a particular church.
We're here to help you - call 020 3281 1045
Options
The restrictions on funerals has seen the evolving of ideas on how to help family and friends feel connected when they cannot attend.
Live webcasting – connect those who cannot attend, enabling them to watch the service live
Video – if you would prefer a permanent memory of the funeral, we can discreetly video for you
Slideshow of up to 30 photos set to music – a lovely way to reflect quietly during a service, we create this as a video file which is far more effective than a typical slideshow. This means you can also use it again if you are planning a later Celebration of Life
Online tribute page – this is useful to announce what is happening with the funeral, where people can easily access the live webcast and Order of Service,, leave a donation to a chosen charity and write a tribute if they wish.
The Journey – during the pandemic, for some families we have arranged the journey to the crematorium to take a specific route by the home, so friends and neighbours can safely distance and bid farewell
Transport – a variety of hearse options are available, or keep it simple with our hearsette. For family transport if you don't wish to drive yourselves, we can arrange limousines, or we also use Parker Cars executive hire for a simpler style.
Alternative venue – GreenAcres Chiltern, a different funeral experience
During the pandemic, we have taken many families to GreenAcres Chiltern that offers a whole different experience for a funeral.
This is a place that will allow up to 30 people and a special sense of occasion with its stunning setting.
You feel like you have your own private space in a beautiful woodland hall set in the forest,  30 people can attend with up to an hour's service time. It avoids the conveyor belt of  a typical crematorium as there is relaxed time to talk outside at the beginning and end of the service. If you would like something more than the simplest funeral, do take a look at this option.
We're here to help you - call 020 3281 1045