Current Situation for Funerals
The Coronavirus pandemic restrictions on funerals limit the number of mourners present. The exact number depends on the size of the venue, typically up to 20 – 30 people are allowed to attend (call us for exact numbers for your chosen crematorium). But a smaller funeral does not mean it is any less meaningful. What matters is how the time is spent.
You may have ideas that you want help with. Or, you may feel unable to process thoughts  We will hand hold you through what needs to happen. And use our creativity to help you plan a meaningful, family farewell.
An Intimate Gathering
Families are commenting how they have appreciated the intimacy of a small gathering in a way they could not have expected.  To not have the pressure of a larger crowd  sat behind you enables you to say things you may not have felt free to say.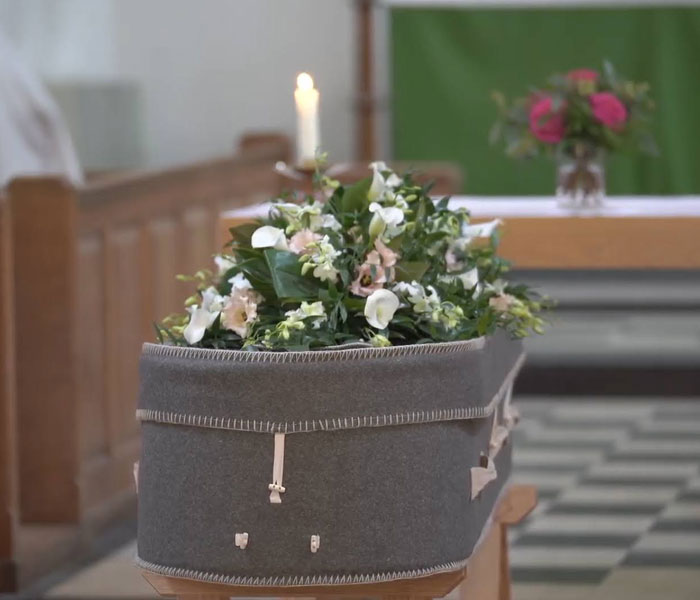 £1,950 + 3rd party costs & options
We serve families in West / SW London to NE Surrey
Minister or Celebrant / Humanist Led Service
Minister led – If a particular faith is to form part of your service, we can help to arrange for a Minister – or maybe you already have your own Minister or priest that you know.
Celebrant led – If your preference is a non-religious service, we work with a number of talented celebrants / humanists who can help you to plan a fitting farewell.  Some families just want a 'light touch' service where tributes written by the family are read out.  Some families want a eulogy style service where a life story is created.  Tributes from non-attending family members can be voice recorded to be played during the service if you wish.
Personal touches
The restrictions on funerals has seen the evolving of ideas on how to help family and friends feel connected when they cannot attend.
The Drive By – for some families, we have arranged a 'drive by' where family and friends can gather at certain points along the route to the crematorium, to pay their respects – we have seen the most touching scenes (safely carried out), that have helped people to feel close on the day
Personal Voice Recordings played during the service
An Elegant Memorial Online-Page – to help you inform relatives and friends, this is useful if you are planning a later memorial / celebration of life – see example
Beautifully Designed Order of Service or Memory Booklets that you can send to family and friends. This can be replicated to an online version too.
Live Streaming – available at most crematoriums
Video – we can also create a video of the service, a private link will be sent to you to share with family
Elegant Hand Tied coffin bouquets – so family can take the flowers home after, as many crematorium are not allowing flowers to stay
We're here to help you - call 020 3281 1045