ARRANGING A FUNERAL DURING THE CORONAVIRUS PANDEMIC
If you are faced with planning a funeral please just call us – Nick and Jacqui – 020 3281 1045 and we can guide you through what will need to happen and how we can help you.
The situation is changing daily, we are holding initial family calls by phone, conference call, skype or zoom.
We are a calm voice that will help. Please call 020 3281 1045
£2,250 + disbursements and any optional extras
We serve families in West / SW London to NE Surrey
A natural burial funeral is a gentle and environmentally friendly alternative to a traditional cemetery burial. In addition to full burials, some natural burial grounds also provide interment of ashes (ashes burials).
You may have a desire to minimise the environmental impact of a funeral. Or perhaps prefer the idea of a tranquil, unhurried funeral in the scenic and peaceful surroundings of a natural woodland, meadow or nature reserve.
Whatever your motivation, a natural burial is for people of all faiths or none who want a greener funeral where the body is returned back to nature, helping to create a sustainable habitat for local wildlife.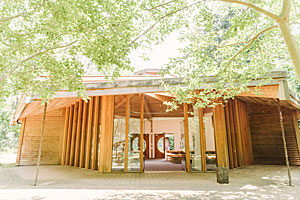 Arranging a natural burial funeral
At White Rose Modern Funerals, we can help you find the perfect, peaceful and environmentally friendly resting-place.
There are many sites easily accessible from SW London and Surrey – from the tranquil nature reserve at Clandon Wood Natural Burial Ground to the glorious mature woodland at GreenAcres Chiltern (see natural burial grounds).
We then ensure that all aspects of the burial meet with the relevant ecological requirements of the chosen site. This includes using a biodegradable coffin or shroud and having a suitable gravemarker.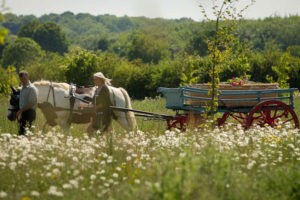 The funeral ceremony
You may choose to hold the funeral ceremony at the natural burial ground – many sites have halls, ceremonial buildings or pavilions available to hire. Or you may have the service elsewhere, for example in a church. Or you may prefer a simple graveside committal.
Whatever you decide, we will work with a minister or celebrant to help personalise the service – or help you arrange an intimate, family-led service.
However formal or informal, large or small, religious or secular, we work hand in hand with you to ensure you have the perfect farewell that reflects the life of your loved one.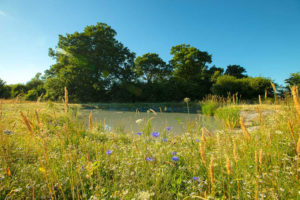 Keeping it green
Eco-friendly coffins; we have a range of coffins made from sustainably sourced, biodegradable materials such as English Willow, bamboo, seagrass or cardboard with degradable linings (no MDF or plastic fittings).
Transportation; you may prefer not to use a traditional black hearse, in which case we can provide a smart hearsette (modified Ford Galaxy) or one of a range of alternative funeral vehicles.
Flowers; our florist is able to ensure 100% biodegradable materials are used for funeral flowers upon request. We also make it easy for families to request donations in lieu of flowers by creating an online funeral notice page with a charity donation link.
No embalming; embalming is an unnecessarily invasive procedure for which there is generally no need. It is not permitted at natural burial grounds to avoid toxic chemicals leaching into the air and soil.
Grave marker; we adhere to the rules for each burial site – some allow a simple wooden plaque or engraved slate marker, others allow planting of trees or native flowers.
Association of Green Funeral Directors
White Rose Modern Funerals is a member of the Association of Green Funeral Directors.
This means we adhere to their code of practice – see the 'Keeping it Green' section above. It also means being transparent with pricing details, empowering bereaved families to arrange a funeral that meets their individual needs and allowing them to have as much involvement as they want.